SPT subway under fire after pulling advert for pro-independence site
The banner adverts, purchased by Wings over Scotland, were placed on underground trains in Glasgow.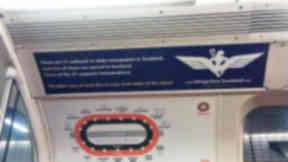 SPT subway bosses have come under fire after pulling an advert promoting a pro-independence website.
The banner ads, purchased last week by the website Wings over Scotland, were placed on underground trains in Glasgow on Monday but removed the following day.
The posters were commissioned to appear on every carriage on the Glasgow Subway network, a total of 41 displays.
They read: "There are 37 national or daily newspapers in Scotland. Just five of them are owned in Scotland. None of the 37 supports independence. Wouldn't you at least like to hear both sides of the story?"
Strathclyde Partnership for Transport (SPT), a public body which administers subway and bus stations in Glasgow and the west, said on Wednesday that it could not act as a platform for political advertising.
The organisation said an outdoor advertising agency had accepted the commission in error, and added that SPT had received a high volume of complaints over the ad's content.
However, the website rejected the characterisation of the advert as "political" and said it was simply highlighting an alternative information source for people interested in the referendum. This was no different than a newspaper sympathetic to the Union advertising its political coverage, the site's operator said.
Wings over Scotland has emerged during the referendum campaign as a leading online voice in support of independence. It frequently criticises the mainstream media for what it believes is a partiality in favour of the Union.
Stuart Campbell, who runs Wings over Scotland, told STV News no objection to the advert's content was raised at the time it was placed with the agency. He criticised SPT for allowing the Metro free paper to be distributed on the subway, pointing to a pro-Union notice carried in the paper on Wednesday morning.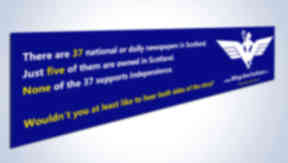 Mr Campbell said: "We're disappointed, but not exactly surprised, that an organisation dominated by Glasgow Labour councillors has chosen to suppress debate in this way. The content of our website is political, but no more so than the numerous Union-supporting newspapers the subway does accept advertising from, and the advert itself made no political statements whatsoever. It simply advertised the site as a source of information.
"The timing is especially ironic given that the subway is happy to actively distribute the Metro to its readers, which is owned by the virulently and openly Unionist Daily Mail, and which this morning contains a full-page political advert backing a No vote worded in highly intemperate language suggesting that nationalists are dishonest and xenophobic.
"It seems clear that the subway ban on political advertising only applies to one side of the independence debate, and it's a shame that SPT evidently don't feel the people of Glasgow should be allowed to hear both sides of the argument."
SPT's contract with outdoor ad agency Primesight states that "any advertisement of a political, religious, sectarian, racist or sexual nature or which is likely to bring SPT into disrepute will not be permitted or approved".
Ad company is now sending us a full refund. Don't say we don't get the maximum value out of your fundraising money, readers :)

— Wings Over Scotland (@WingsScotland) March 26, 2014
The organisation cited the Local Government Act 1986 as the basis for its advertising policy. The Act includes a "prohibition of political publicity" and enjoins against publishing "any material which, in whole or in part, appears to be designed to affect public support for a political party".
It defines this as "material refers to a political party or to persons identified with a political party or promotes or opposes a point of view on a question of political controversy which is identifiable as the view of one political party and not of another".
The legislation also covers circumstances "where the material is part of a campaign, the effect which the campaign appears to be designed to achieve".
It is understood SPT will clarify its guidelines on advertising with Primesight following the incident.
An SPT spokeswoman said: "SPT advertising contract guidelines state that Subway sites should not be used to campaign or lobby for political benefit.
"Our advertising agency applies that standard to all commercial bookings but unfortunately this particular ad slipped through their net. The ad was taken down as a result."