Debt firm pledges 400 new jobs during First Minister's New York trip
Portfolio Recovery Associates, a leading US debt-buying company, plans to hire in Kilmarnock.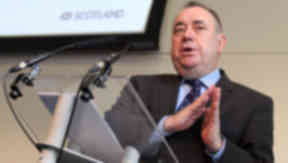 A leading debt recovery firm has pledged to create 400 new jobs in Kilmarnock.
Portfolio Recovery Associates UK (PRA) made the announcement during the First Minister's trade trip to New York.
Alex Salmond is in the United States as part of Scotland Week 2014, where he is promoting Scottish business.
PRA, a leading US debt-buying company, currently employs 300 people in its East Ayrshire offices but a £1.2m investment is expected to boost the staff numbers by 400.
Speaking in advance of his meeting with PRA, Mr Salmond said: "PRA UK is a well-known employer in Kilmarnock and the announcement of hundreds of new jobs is fantastic news for the area.
"Last month, the Scottish cabinet met in Ayrshire where we focused on community regeneration announcing funding of £1.7m to help the area flourish.
"I'm looking forward to meeting senior representatives of the company later today in New York as they confirm plans to create these new jobs for Kilmarnock.
Steve Fredrickson, chairman, president and chief executive officer, PRA said: "Portfolio Recovery Associates sees opportunity for business growth in the UK resulting in additional call centre jobs and other roles. The support of the RSA and East Ayrshire Council will help enable this growth."
Douglas Reid, leader of East Ayrshire Council, said: "East Ayrshire Council is delighted with the news that Portfolio Recovery Associates has plans to create another 400 new jobs in Kilmarnock, increasing the workforce of this valued and well-known employer.
"The council has worked hand in hand with PRA to identify and fund the redevelopment of town centre office space to continue our priority to bring high value jobs into Kilmarnock town centre.
"The welcome jobs boost, along with financial support, adds to the ongoing regeneration of Kilmarnock as a thriving town which is open for business, as well as being a good place to live, with a strong sense of community and a real heart.
"This employment on a large scale, is just reward for the effort we are putting in to economic development, and I would encourage any company with growth plans to come and talk to us. I know that local people will make the most of this exciting opportunity, looking ahead to a great future for Kilmarnock and East Ayrshire."
Willie Coffey, SNP MSP for Kilmarnock and Irvine Valley, added: "This is a fantastic announcement and a real economic boost for Kilmarnock.
"The creation of 400 new jobs in the area is a significant development and is a strong demonstration of the skills and expertise of people in the area. It is great news for Kilmarnock and I would like to pay tribute to the many people who worked hard to secure this job-creating investment.
"Scotland has a strong track record of attracting investment and today's announcement goes to show that Scotland is a place where international companies want to come and do business.
"With a Yes vote in September, we will secure the job creating powers we need to attract more investment and further boost jobs in Kilmarnock and across Scotland."