Exhibition shows how Glasgow became rich from tobacco and slavery
How Glasgow Flourished tells the story of the city in the 18th century era of the Tobacco Lords.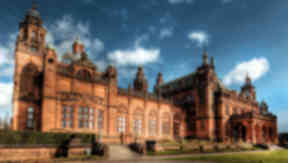 Glasgow's Georgian history is the subject of a new exhibition at Kelvingrove Art Gallery.
How Glasgow Flourished tells the story of the city in the 18th century, an era that saw sweeping changes to industry and society.
Driving the city's new economy were the Tobacco Lords, Glasgow merchants who grew rich by trading in tobacco harvested by slaves in the American colonies.
By the middle of the century, Glasgow dominated Britain's tobacco and sugar imports and wealth flooded into the city.
The merchants left their mark with buildings such as St Andrew's church and the mansion which now houses the city's Gallery of Modern Art.
Meanwhile, Jamaica Street is a reminder to the brutal underside of slavery that underpinned the Tobacco Lords' fortunes. During the 18th century the population of African slaves in the Chesapeake Bay region is estimated to have grown from 100,000 to 1,000,000. Many of these were shipped to the Americas in ships funded by Scottish merchants.
Another section of the exhibition looks at the changing face of industry in the Georgian era. It was during this century that Glaswegians first came together in workers' associations and co-operatives to campaign for better working and living conditions for them and their families, paving the way for the trade union movement.
The exhibition includes displays of looms and factory engines showing how industry changed during the century, as well as clothes worn by Glaswegians at the time.
Other exclusive displays include new portraits of members of one of Glasgow's wealthiest families, the Glassfords, and James Watt's revolutionary steam engine.
There are also many other pieces from Glasgow Museums' collection that have never been on display before, including art and objects relating to the lives of Glaswegians.
How Glasgow Flourished is free to enter and runs from April 18 to August 17.