Television programme recorded at Ravenscraig
Pre-Olympics show records at sports facility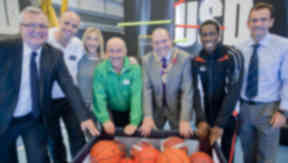 Ravenscraig was the scene for a television show being filmed as part of the run-up to the London Olympics.
Some of the top names in British sport came together at the huge sports facility to shoot 'Ultimate Sports Day', where four teams of four young athletes from England, Scotland, Wales and Northern Ireland run, jump, shoot, paddle and ride their way to become champions.
The four teams are mentored by some of the country's biggest sporting stars - decathlete Dean Macey for the England team, seven times British champion ice dancer Sinead Kerr for Scotland, Team GB sprinter Christian Malcolm for Wales and Northern Ireland is led by former World Featherweight boxing champion Barry McGuigan.
The mentors and the contestants will all be competing under the watchful eye of top sports professor and trainer Greg Whyte – who guided Eddie Izzard and David Walliams in their running and swimming marathons for Sport Relief.
Jim Logue, chair of North Lanarkshire Leisure, said: "It's great to host such a high profile event at Ravenscraig, particularly one aimed at getting young people interested in sport which is something we are totally passionate about."
Ore Oduba, who hosts the show, said it was a wonderful opportunity for elite sports star to pass on their knowledge to youngsters.
He said: "This is about celebrating young sports stars and testing their mettle to see what it takes to be the best."
'Ultimate Sports Day' is currently in production in Scotland and will premiere on the CBBC channel in early 2012.