Man wearing nothing but frilly knickers at 'sex meeting spot' claimed he was sunbathing
Semi-naked Brian Bone, 50, told police that his wife had made him 'sandwiches and cola' for trip to reservoir in Stirling.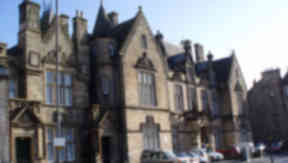 A man found by police lying on a rug near a reservoir wearing only "frilly woman's pants" claimed he was just sunbathing.
Brian Bone, 50, was lying down on a rock wearing nothing but the pants near the North Third reservoir in Stirling.
Stirling Sheriff Court heard officers found the delivery driver at a spot which was particularly popular for "gay cruising", but Bone said he was only there because it was his favourite spot for sunbathing.
The court also heard that the knickers were "buttock revealing".
Bone told officers the only reason he was exposing himself when they arrived was because he had panicked after he finished urinating.
PC Greg McKenzie told the court that the rural area near the reservoir was popular with families taking part in outdoor activities such as horse riding, cycling and mountain biking.
But he added: "Officers are aware that there are men that go to secluded spots to meet other men to engage in sexual activity.
"There was a number of cars in a lay-by, near a particular area that is very popular with men arranging to meet, so we decided to go for a look.
"We turned round a corner and this is where we observed Mr Bone. He was sat on a small clearing laid out on a rug. We first thought he was completely naked but I noticed he was wearing what appeared to be women's underpants and they had his buttocks exposed".
Community officer Steven Scott, 38, attending with PC McKenzie said the area where Bone was found was a "common public sex environment".
He said: "The area is particularly popular with men meeting other men, commonly known as 'gay cruising', but you also get couples here too.
"We saw Mr Bone lying on the rug. His underpants appeared to be female's as they were frilly. The way he was posed, I thought he was there for sexual activity."
He said that when Bone finally got changed and was charged with an act of indecency, he replied: "Guilty."
But Bone denied in evidence there was any sexual motive to his behaviour.
He said: "I had been sunbathing there for about two years. I had extensive building work done in my garden, so I found it much nicer to head up there because it was nice and quiet.
"I was led to believe this was where men arranged to meet for sex but I had never seen it happening. There was nothing sexual about me going there though. I would just go up for a couple of hours and sunbathe on my own."
'Sandwiches and coke'
He added: "My wife Shirley is fine with it too, and she'd make me sandwiches and cola for my afternoon's up there."
Bone said he had brought his rug to lie on but had forgotten his shorts.
He said: "So I was wearing just my boxers so I could get a good tan, when the police arrived.
"I was in the process of urinating when I heard footsteps and ran back to my rug. I panicked. That was the reason I was exposed."
He said police went up to him and asked him if he was gay or bisexual, but said he was confused about what to say because he did not know what bisexual meant.
Bone had brought a pair of black pants to court as a "defence production" which were shown in court, but Sheriff Wyllie Robertson concluded they were not the pair he wore on the day in question.
Bone, of Underwood Cottages, Cambusbarron, Stirling, had denied a single charge of committing an act of indecency on June 23.
Sheriff Wyllie Robertson found Bone guilty of the charge and fined him £500.
He said: "I find his explanation of events to be incredulous.
"I have concluded in the case that you knew that his area was frequented by men for sexual activity and also that your underpants were pulled to one side. I also find that they were frilly as the officers said."