Firefighters battle major blaze at Mackintosh Glasgow School of Art
Salvage operation under way on Friday evening after 'majority' of building and contents saved from fire.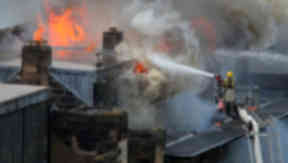 Firefighters battling a blaze at the Charles Rennie Mackintosh-designed Glasgow School of Art say they have managed to save "the majority" of the world famous building.
Eyewitnesses reported flames billowing from the rear of the A-listed building and smoke spreading across the skyline around 12.30pm on Friday.
Firefighters from Cowcaddens, Yorkhill and Maryhill were at the scene within four minutes.
School officials confirmed students had been evacuated safely from both the Mackintosh building and the neighbouring Reid building.
Windows at the Mackintosh building had blown out with flames visible from the rear of the building on Renfrew Street in Glasgow city centre.
The fire service was unable to confirm the cause of the blaze immediately, where it broke out in the building or the extent of damage.
Early on Friday evening, chief officer Alasdair Hay said: "This is likely to be a protracted incident and crews have been working extremely hard to tackle what is clearly a very significant fire. The priority throughout this operation has been to protect life but salvage operations are also under way.
"Part of our operation is to try and salvage what we can and we worked with colleagues from the school who identified objects of significance that they would like us, if possible, to save. They described the objects and their location and we briefed officers and firefighters, where they could, did the salvage if it was safe to do so."
"There are still pockets of fire but we are confident we have extinguished the main fire. There are structural engineers here and we are working with them to save as much of the fabric as we possibly can."
Around 9pm, the Fire Service announced that "the majority" of the building's contents had been saved from destruction.
A statement read: "Firefighters battling the blaze at the iconic Macintosh Building in Glasgow City Centre have prevented the destruction of both the structure and the majority of its contents.
"Scottish Fire and Rescue Service crews are continuing work to fully extinguish the fire and save artworks.
"With the incident under control indications are the firefighters' efforts have ensured more than 90% of the structure is viable and protected up to 70% of the contents - including many students' work."
Assistant chief officer Dave Boyle, said: "Crews have been working absolutely flat out throughout this very challenging incident and it is clear their effort and skill has saved this treasured building and many of the items it housed.
"Work to save everything that can be saved is ongoing and we will continue to work closely with GSA staff and students throughout this operation."
A spokesperson for Glasgow School of Art added: "We would like to express our very sincere thanks to the Scottish Fire and Rescue Service for their tremendous efforts throughout today."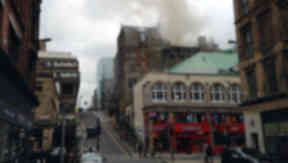 The school has produced most of Scotland's leading contemporary artists including, since 2005, 30% of Turner Prize nominees and three recent Turner Prize winners.
Students had been preparing for their degree show, the centrepiece of their work, which had been expected to open on Saturday.
One student said: "I just saw loads of smoke coming from the windows and roof. I'm in shock."
Hugh Thornhill, a second year student, said: "I was helping one of the fourth years set up their exhibit and suddenly the alarm went off. We didn't think it was anything but we had to go out and then we saw smoke coming out and realised that it was really bad. It got to the point where flames were coming out of the top floor.
"All that effort is gone, everyone's work on that side of the building is ruined. Even if it didn't catch fire it will be damaged extensively. The degree show next month is pretty much a bust now, it's sad."
Broadcaster Muriel Gray, former student and current chairwoman of the school, arrived and burst into tears when she saw the building in flames. She later released a statement that read: "Today is a really black one for the GSA, but I cannot thank the fire brigade enough for the speed with which they came and their commitment to contain and extinguish the fire.
"Fortunately there have been no fatalities or injuries.
"I am so proud of the staff and students and how everyone has pulled together. We are thankful to all the Glaswegians who turned up to comfort students and to friends from across the world for their messages of support."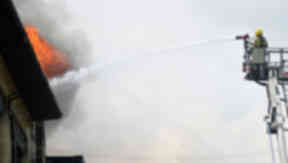 Staff are now arranging for locksmiths and services for students who left personal belongings and keys in the building.
Second year student Clare Reilly said: "It's not about that (keys and personal belongings), four years of work is gone for all those students, the deadline was at 5pm today. Even the archive and library in there will be gone.
"There's so much work and history in the building and it's gone. I've got two years to go but we might not be allowed back in."
It is thought that the fire could have started when a projector burst into flames in the basement and ignited foam being used for an artwork.
Austin Yuill, who works as a chef at the art school, told the BBC: "I've been moved two streets away from the Mackintosh building but before we left the place was completely ablaze all down the west side of the building.
"I'm told it started in the basement and it's worked its way all the way up through the five floors. As far as I know it started from a spark which has gone on to foam, expanding foam."
Asked how busy the art school was, he said: "It would be very busy because we're working up to the end-of-year assessments, so all the students were installing their work today all over the Mackintosh building. There are a lot of very upset students here."
He added: "Quite apart from it being voted the best building of the last 175 years, it is a major tourist draw and has an incredible reputation as an art school. This is really terrible."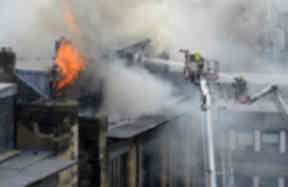 Culture secretary Fiona Hyslop said: "While thankfully nobody has been hurt in this fire, the destruction of this iconic building is devastating news and my thoughts are with staff and students who have seen the terrible loss of their workplace and academic work. This afternoon I have spoken to Professor Tom Inns, the GSA director, to relay our support and sadness at these awful events.
"The Mackintosh building is of international importance and, while the immediate priority will be to secure the safety and structure of the building, the Scottish Government and Historic Scotland stand ready to support Glasgow School of Art, staff and students in the short term as well as offer technical advice, emergency conservation and restoration support when the situation becomes clearer."
The Royal Institute of British Architects (RIBA) tonight described the blaze as "an international tragedy".
RIBA president Stephen Hodder said: "Damage to a building of such immense significance and uniqueness is an international tragedy. It is irreplaceable.
"The RIBA joins our colleagues in Scotland in sending out a message to the students, staff of the School and all those who have been associated with this building over the decades, a message of sorrow and commiseration at this terrible, terrible news. It is too early to talk about what happens now, but the Institute will do anything it can to help in any way."
Art school bosses are in the process of setting up an incident number for concerned students and family. Traffic Scotland reported that Hill Street from Cambridge Street had been closed by emergency services, and motorists were advised to take an alternate route.
A new £30m building for the art school was opened on April 9 by Scots actor Robbie Coltrane. The new structure, designed by Steven Holl, provides studios for the School of Design and other facilities for Glasgow School of Art (GSA) as well as a gallery and a new visitor centre.
It was named after Dame Seona Reid, the first female director of the GSA, who stepped down in 2013. Professor Tom Inns was appointed director on May 3, 2013.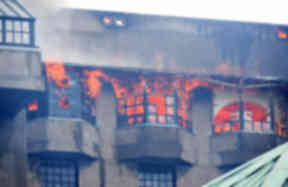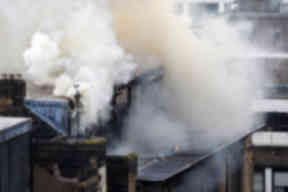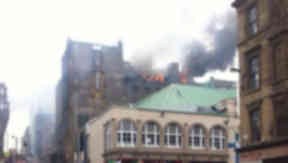 View Glasgow School of Art fire in a larger map
Feedback: We want your feedback on our site. If you've got questions, spotted an inaccuracy or just want to share some ideas about our news service, please email us on web@stv.tv.
Download: The STV News app is Scotland's favourite and is available for iPhone from the Apple store and for Android from Google Play. Download it today and continue to enjoy STV News wherever you are.
Join in: For debate, chat, comment and more, join our communities on the STV News Facebook page or follow @STVNews on Twitter.