Art students form guard of honour for fire crews as school reopens
Around 200 firefighters were involved in tackling the blaze at Glasgow School of Art.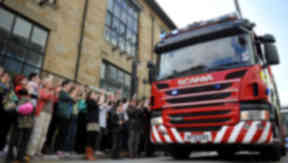 Students from the Glasgow School of Art formed a guard of honour to send fire crews on their way as they left the campus where a major blaze took hold a week ago.
The city and the arts world were rocked last Friday when flames engulfed the institution's renowned Grade A-listed Mackintosh Building.
Around 200 firefighters were involved in tackling the blaze at its height and the fire service has been widely praised after crews salvaged 90% of the structure and saved up to 70% of its contents.
Crews had remained in 24-hour attendance at the Garnethill campus throughout the week as they continued their work in the aftermath of the major incident.
When the last of the fire crews withdrew from the scene on Friday afternoon, they were given a heroes' send-off.
The last of the Scottish Fire and Rescue Service (SFRS) appliances drove down Renfrew Street accompanied by a piper and loud cheers from the art school staff and students.
Art school director Professor Tom Inns said: "The students returned to the campus today and the GSA is now focusing on its academic work moving forward towards graduation.
"However we did not want to miss this opportunity to once again register our deep and heartfelt thanks to the Scottish Fire and Rescue Service who over the last week have been quite simply amazing."
The development came as the Architects Journal announced that it is to present a special architectural award to the SFRS for its extraordinary efforts in saving what it called "one of the world's most admired buildings".
Acting editor Rory Olcayto said: "Their bravery, quick-wittedness and civic pride are qualities the whole architecture profession is grateful for."