Guest headbutted as violent scenes erupt at hairdressing awards
Guest headbutted during the INAA Scottish Hair and Beauty Awards at the Thistle Hotel in Glasgow on Sunday.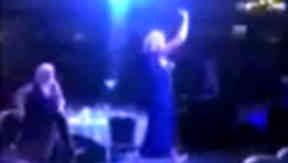 A plush hairdressing awards ceremony descended into chaos when police were called after a guest was headbutted and violent scenes erupted.
Event organiser Ruthanne Reid, 57, appears to headbutt a guest during the INAA Scottish Hair and Beauty Awards at the Thistle Hotel in Glasgow on Sunday.
Video footage obtained by STV also appears to show Ms Reid storm off stage towards the crowd and strike someone with her handbag.
Famous guests including The Only Way is Essex star Mark Wright and fiance Michelle Keegan, Miss Scotland and the Lord Provost of Glasgow were in attendance.
Police were called to the event at around 11.40pm after violent scenes erupted.
Dundee salon owner Ashley Hutton, 37, who attended the £105-per-ticket event, said the event was badly organised and branded it "a shambles".
She also claimed Ms Reid was heavily under the influence of alcohol towards the end of the night when she apparently walked on stage, grabbed the microphone and screamed at the crowd.
As Ms Reid was on stage, another woman is caught on camera storming forwards before exposing her backside to Ms Reid and the audience.
Mrs Hutton said: "The whole event was an absolute shambles and everyone I know who was there are totally embarrassed by the scenes.
"This was meant to be a well organised, enjoyable event to celebrate our industry but it was the exact opposite.
"Ruthanne was very drunk and ended up screaming at everyone in the crowd for no reason. Before that even happened you would tell people were getting annoyed and agitated because of how badly organised the ceremony was.
"Then all of a sudden she stormed off stage and started swinging her bag at people and then ended up headbutting a guest. Security got involved, it was just a farce.
"Miss Scotland was there and got her crown knocked off and the Lord Provost of Glasgow was there too. The whole thing was shocking and I am totally embarrassed about it. People put a lot of time and effort into the awards and paid over £100 for a tickets, but it was just a disaster. I feel let down and so do most of the guests who I've spoken to about it."
A Police Scotland spokeswoman said: "Officers were called to the Thistle Hotel at 11.40pm on Sunday. There was no complaint made and no evidence of criminality."