Disabled couple refused entry to nightclub win discrimination case
Robert Gale and Nathan Gale took legal action against G1 Group after they were refused entry to Polo Lounge in Glasgow.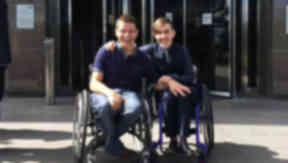 A disabled couple have won a discrimination case against one of Scotland's largest leisure firms after they were refused access to a nightclub.
Nathan and Robert Gale took G1 Group to court after claiming bouncers did not allow them into Glasgow's Polo Lounge because the venue had no disabled facilities.
Mr Robert Gale, 33, and equality campaigner Nathan Gale, 28, had been to the popular venue before but on this occasion were refused access.
Door staff cited a lack of disabled facilities at the premises as the reason they were not allowed in.
Robert Gale, who has cerbral palsy, pulled himself from his wheelchair and crawled up the stairs to convince security staff that he didn't require a wheelchair ramp.
His partner, who has arthritis and is also in a wheelchair, sat down on the side of the stairs at the Merchant City nighspot while his partner tried to reason with management at the top of the stairs.
They claim they spent 15 minutes trying to reason with the management team before staff called police.
After the incident Nathan Gale took legal action against Polo Lounge owners G1 Group, which is owned by leisure and property tycoon Stefan King.
The pair asked the court to pronounce a decree ruling that they had been discriminated against under the Equality Act.
And on Wednesday, a hearing at Glasgow Sheriff Court ruled the couple had been discriminated against and they will receive £2000 in compensation after G1's legal representatives agreed to the decree.
It is one of the only civil cases seen in Scotland under the Equality Act in relation to access for disabled people.
A spokeswoman for G1 Group said they accepted the pair were "wrongly refused" entry to the nightclub due to a "misunderstanding" by staff and added extra training has been provided to staff members.
Robert Gale said after the ruling: "This was never about us. We didn't do this for us. What happened that night has already had its impact on us and nothing can change that. We took this case in the hope that it would give people faith that discrimination law can work, that as disabled people we don't just have to accept the treatment we receive.
"We took this case for that young LGBT disabled person whose first experience of trying to access their so called community is to be told that they're not wanted.
"We took this case to show every company who thinks it can get away with treating disabled people like they are unworthy of using their services that they can't.
"And today, a year after we tried to go for a celebratory drink in the Polo Lounge and were told we couldn't go in, Glasgow Sheriff Court ruled that we were unlawfully discriminated against - we have won our case.
"We hope the fear of being litigated against and having to pay compensation will encourage other companies to be more proactive in providing for all their customers, including the disabled ones. Nathan and I know this won't be the last time we'll face discrimination. But for today, we won.
"We are so incredibly grateful to the unwavering support that everyone has given us. Without the Faculty of Advocates' Free Legal Assistance Unit, and our amazing lawyer Russell Bradley, we couldn't have done this.
"Tom French, who was with us that night has stood by us all the way through and was an amazing witness. Rachel Amey was there in court to support us, help maintain our sanity, and even brought a pack of straws so I could have a drink. And Nic brought Brownies. Our heartfelt thanks to everyone who has been there for us this year."
A spokeswoman for G1 Group said: "G1 Group Plc today accepted that Nathan and Robert Gale were wrongly refused entry to the Polo Lounge on 13th June 2013. This was a one off incident and due to a misunderstanding by staff members in relation to wheelchair access to the Polo Lounge which is a listed building.
"The staff members concerned have been provided with further training in light of this incident.
"Robert Gale has been a patron of the Polo Lounge for many years and has been assisted by staff in the past to ensure his entry to the venue was fulfilled. We are grateful to him for acknowledging some positive feedback on staff attitude on his previous visits there. We continue to value Nathan and Robert's patronage."
Tim Hopkins, director of the Equality Network, said: "We welcome this important judgement, which sends out a clear message that businesses must not discriminate, whether on grounds of disability or on any other grounds, such as sexual orientation or gender identity. This case shows that people can use the courts to stand up against discrimination and win."