New emergency information card launched to help Glasgow carers
The Carers emergency card will provide a plan for carers should they be unable to continue.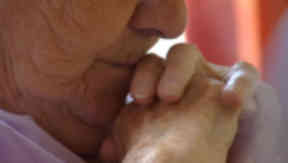 A new information card aimed at giving peace of mind to Glasgow carers in case they are unable to carry out their caring responsibilities has been launched.
The Carers Emergency Card will details the steps that should be taken in the event of an unexpected crisis to ensure the cared for person is safe and well.
It was developed for older carers who expressed concerns about what would happen if they were unable to support the person they care for
The emergency plan can be accessed 24-hours-a-day, seven days a week by members of the emergency services.
Councillor Malcolm Cunning, the council's Executive Member for Social Care, said: "The emergency card is a simple and practical measure that will make a big difference for carers.
"Worrying about what will happen to the person they look after should anything ever go wrong is a major issue for carers.
"But the card, combined with an emergency plan, will give much needed reassurance that someone will be able to step in and help out should a carer be unable to be where they are needed for whatever reason.
There are around 7000 registered carers in Glasgow, but many do not currently have a written plan in place to deal with emergencies.
Glasgow carer Jane Anderson said: "Getting an Emergency Plan done has given me fantastic reassurance.
"I had an accident last year and refused to go to hospital as I had no one to help my husband in my absence.
"Now that I have had a plan done a big weight has lifted from my shoulders, and I would be able to accept treatment, knowing my husband will be well looked after."
So far 431 Carers Emergency Plans have been completed and each carer has be offered the Carers Emergency Card to carry with them at all times.