Opening day celebrations for the River Clyde
United Clyde Angling Protection Association organise ever opening ceremony to mark the start of salmon season on the River Clyde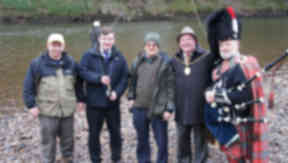 Fishermen from across Lanarkshire were out in force at the first opening ceremony of the River Clyde.
World casting champion Peter Anderson cast the first line into the river to mark the start of the 2012 salmon season.
South Lanarkshire Provost Russell Clearie and Councillor Paul Kelly from Motherwell joined in the ceremony and toasted the river with a dram of whisky from a Quaich.
The first ever ceremony was organised by the United Clyde Angling Protection Association (UCAPA) who run the fishing on the Clyde from the Bothwell Bridge to Elvanfoot.
Billy Gillan, one of the directors of UCAPA said: "Salmon has come back to the Clyde after over 160 years and we wanted to celebrate that.
"At one point the salmon was almost extinct around here because of the shipyards and steelworks there was so much pollution.
"But since the closure of the yards and the introduction of new legislation from SEPA and with hard work from groups like UCAPA, and The River Clyde Foundation the river has now been cleaned up, the salmon have now returned, and the River Clyde has now been named as being in the top ten salmon rivers in Scotland."
Around 30 members of UCAPA gathered at the Popinjay Hotel, Rosebank for the speeches before the procession, led by Pipe Major David Stark marched to the Mauldslie Bridge for the ceremony itself.
It is now intended that the opening day will be an annual event.
South Lanarkshire Provost Russell Clearie said it was a tremendous achievement to see the salmon come back to the Clyde.
He said: "This is a special occasion for the history of the River Clyde. The Clyde was without a doubt one of the most prominent shipbuilders in the world, a key player in the industry.
"But the demise of the heavy industry brought salmon back to the area and with the fishing and the Clyde walkways we hope visitors will enjoy the scenery.
"I'm delighted to celebrate the salmon and the River Clyde, one of the best rivers in Scotland so a big huge thank you to UCAPA, River Clyde Foundation and SEPA for returning the river to a place of beauty."
Councillor Paul Kelly added: "This is an asset to Lanarkshire. It's wonderful to see salmon return to the Clyde after the last 160 years of pollution."