Poor spelling and grammar on social websites harms job prospects
Research shows people who use 'text speak' are viewed as less intelligent by prospective employers.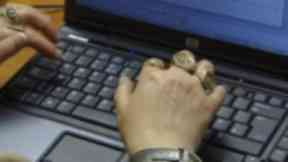 Scots who display bad grammar on social media sites are harming their job prospects, according to new research.
Researchers discovered that using 'text-speak' on Facebook and Twitter was seen as a poor reflection of intelligence and competence by prospective employers.
The study, conducted by the University of the West of Scotland (UWS), examined the reactions of more than 110 participants to profiles that included spelling errors, poor grammar and 'text speak', such as 'LOL' (laugh out loud) and 'm8' (mate).
Graham Scott, from UWS's school of social sciences, said: "Employers are looking to different sources of information to distinguish candidates from one another.
"One easily accessible area is the internet and in particular social networking sites as they have been shown to accurately reflect individuals' offline personas.
"So if you make spelling mistakes or use 'text speak' online you'll be viewed as less intelligent and employable than if you use correct language.
"This is relevant because nowadays so many people have degrees that there's less to differentiate between candidates applying for graduate level jobs."
Of 300 hiring professionals surveyed for a recent study, 90% used information contained on candidates' online profiles to help them decide which position to offer them.
Mr Scott added: "When you're on Facebook or Twitter you might be writing for your friends but other people will be able to view what you write.
"So either be careful about what you say or check your privacy settings."
The paper is due to be published in the Cyberpsychology, Behaviour and Social Networking journal in August.