Nasa astronauts launch space school for Scots secondary pupils
Students could develop an experiment to be carried out on the International Space Station.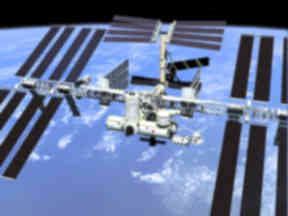 Former Nasa astronauts have launched a week-long space school for hundreds of young people in Scotland.
About 200 S3-S5 pupils from Renfrewshire are taking part in Mission Discovery, an international educational programme which is being brought to Scotland for the first time.
They will be split into groups and will work with former astronauts, scientists and trainers to come up with an idea for an experiment to be carried out in space.
The best idea will be built and launched to the International Space Station, where astronauts will carry out the experiment.
Those taking part in the space school include former Nasa space shuttle commander Ken Ham.
He said: "A wonderful aspect of working with youth, particularly these ages, is that they come up with the most amazing ideas that none of us old adults can come up with on our own, so it could be from physical sciences to medical sciences, wherever your imagination can take you.
"Something that is useful for humanity and might be answered by an experiment in micro-gravity."
Other experts taking part include former Nasa astronaut trainer Michelle Ham and Chris Barber, director of the International Space School Educational Trust and Mission Discovery founder.
Renfrewshire's provost Anne Hall said: "We are absolutely delighted to welcome the Mission Discovery team to Scotland for the first time and to be able to offer young people in Renfrewshire this amazing opportunity to benefit from their extensive experience in space travel, research and training.
"We are committed to educational excellence in Renfrewshire and are working closely with our partners to develop many exciting opportunities to enhance the study of sciences for students of all ages, with a particular focus on laying the foundations for young people to go on to successful careers in this field."
Students from the University of West of Scotland and West College Scotland are also taking part in the space school. The two institutions are sponsoring Mission Discovery.