Father cleared of killing son who died 13 years after he shook him
Allan Young, from Lanarkshire, broke down in tears at the Old Bailey in London as the jury returned a verdict of not guilty.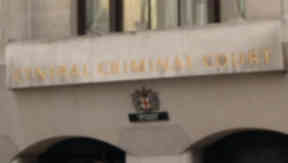 A man who caused catastrophic brain injuries to his newborn son has been found not guilty of the boy's manslaughter following a landmark trial.
Allan Young, 36, broke down in tears at the Old Bailey in London as the jury returned a verdict of not guilty.
Mr Young, from Wishaw in Lanarkshire, had previously been jailed for 12 months after admitting causing grievous bodily harm to five-week-old Michael Winn.
Mr Young pled guilty in 1998 to grevious bodily harm, leaving him "severely disabled", the court heard.
When Michael died in 2011, Mr Young was further charged with manslaughter following a change in the law.
Before 1996, charges of murder or manslaughter could only be brought if death occurred within a year and a day from the date of the original assault.
In Mr Young's case, charges were brought even though there had been a 12-year gap, making it the longest on record.
The prosecution said Michael's death was a direct result of the injuries he suffered years earlier which caused cerebral palsy and curvature of the spine.
His physical and intellectual development was impaired to such an extent he had trouble breathing, was blind, incontinent and could not speak.
Following the assault, Michael was assessed as having only a 65% chance of surviving to the age of 11, the court heard.
Mr Young had denied manslaughter.
On Friday, after 24 hours and 40 minutes' deliberations, a jury of ten people reached a verdict which found him not guilty.
Mr Young declined the judge's offer to remain in the court after being freed from the dock, and also declined to comment as he left the court room.
Mr Young broke down in tears at the Old Bailey as the jury returned a verdict of not guilty following more than 24 hours of deliberation.
Speaking outside the court, through his solicitor Jenny Wiltshire of Hickman Rose, said: "There are no winners in this case, or in relation to what happened to Michael. I had moved on with my life, with my new partner and lovely little girl.
"When Michael tragically died, I was arrested out of the blue, and once again my world was turned upside down."I really question whether it was in the public interest to prosecute me after so long."