'Evil' killer who murdered Reamonn Gormley jailed for 19 years
Daryn Maxwell stabbed 19-year-old student three times in Blantyre in February.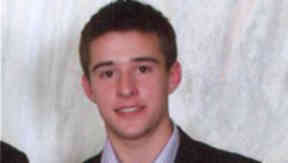 A man who admitted murdering Reamonn Gormley by stabbing him in the neck during an attempted robbery has been sentenced to life with a minimum of 19 years.
Daryn Maxwell, 23, stabbed the 19-year-old student three times after he refused to hand over his wallet and mobile phone in Glasgow Road, Blantyre, South Lanarkshire, on February 1. Mr Gormley died after Maxwell delivered a fatal blow to the neck which severed vital arteries.
Maxwell's co-accused Barry Smith, who had gone out armed with a chisel to commit a robbery, was also jailed for culpable homicide on Wednesday.
After the pair were sentenced, Glasgow University student Mr Gormley's family said that "some sort of justice" had been brought against the "evil people" who killed their son.
They also said they would "struggle to come to terms" with the fact that Maxwell and Smith "have contributed nothing positive to society but only spread fear and violence will one day be free to walk our streets again".
At the High Court in Perth on Wednesday, Judge Ladge Dorrian told the killers: "This was a random unprovoked attack on a member of the public for the purposes of a robbery. He was stabbed three times - one stab wound severed his carotid artery, causing him to bleed to death. This was a most serious offence."
At an earlier hearing, the High Court in Glasgow heard that Mr Gormley had been walking home with his friend David McFall after watching a football match at the nearby Parkville Hotel.
They were approached by two men who came out of a flat which backed on to Glasgow Road, who had decided to "go and rob someone". Maxwell showed a knife to Mr Gormley and his co-accused Smith showed a chisel to Mr McFall.
A "scuffle" occurred between Maxwell and Mr Gormley, who had refused to hand over his items.
Smith, 19, pled guilty to culpable homicide, on the grounds that he had planned the robbery with Maxwell and had knowingly taken out a weapon which could cause serious bodily harm. However, he did not stab Mr Gormley. He was sentenced to eight years and three months.
Previously, Alex Prentice QC for the Crown, told the court that Mr McFall could see that Mr Gormley was "bleeding heavily from the neck", and he took him back to the Parkville Hotel, where members of staff came to their assistance.
Mr Prentice said witnesses in the bar area recalled hearing Mr Gormley saying: "I've been stabbed, I've been stabbed", and who later reported that he said: "Please don't let me die."
The murder victim was walking home from the hotel having watched the Celtic - Aberdeen game on TV there when he was attacked.
Mr Prentice said: "The deceased was put on a chair in the bar while a member of staff applied pressure to his neck. He slipped out of consciousness and slumped in the seat. He was bleeding from the neck and the mouth.
"He was eventually laid down in the back corner of the bar area where he was given CPR." Mr Gormley was taken to Hairmyres Hospital, East Kilbride, where he was pronounced dead about 10 minutes later.
A post-mortem examination showed Mr Gormley had died as the result of a haemorrhage from the fatal stab wound in his neck, which was 4.5cm deep.
At the hearing in October, the court also heard that someone had shouted "Dean Hutcheson number one" at some point during the altercation. This led members of the local community to believe another young man in the area was responsible for the murder.
Mr Prentice said the following day Maxwell's mother, Margaret Innes, told him what she had heard. He replied: "It wasn't him," and when she asked how he knew that, he said: "Because it was me."
Ms Innes and her partner Derek Kelso went to a police station to report what he had said and Maxwell was later arrested.
Ian Duguid QC, Maxwell's defence solicitor, said it was a "street robbery gone wrong" and that Mr Gormley "was in the wrong place at the wrong time".
He said Maxwell had not expected to be challenged when carrying out the robbery.
Mr Gormley had spent several months working for the Good Child Foundation in Thailand, a charity with strong links to Celtic that helps children with Down's syndrome.
After his murder, the charity paid tribute to him in a song, while fundraising work has been carried out in his memory in his local community and at his beloved Celtic FC.
IN DETAIL