Artist of the Week: JD Allan
JD Allan takes part in our weekly Q and A.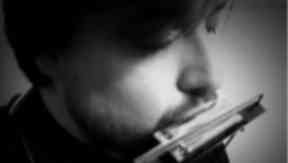 Introduce yourself Ahoy, I'm JD Allan, a singer-songwriter from Glasgow.
Describe your music Folk Country Americana with a smidgen of melancholy.
Name check your main influences Woody Guthrie, Matt Johnson, Brian Wilson, Donovan, Morrissey.
Where and when was your last gig? The Rockit Room in San Francisco last summer.
Biggest achievement so far? Over the years I've gigged with Scottish acts as diverse as Mogwai, Glasvegas and Bis but supporting the Sensational Alex Harvey Band tops the lot.
Where are you going to be in five years? Someone once asked Jonny Marr what he would have been if he hadn't been a successful musician. He replied: "An unsuccessful musician." I kinda feel the same way so I'll answer by saying hopefully still making music.
Best gig you ever saw? Public Image Ltd at the Barrowlands.
What Glasgow venue would you love to play? The bandstand in Kelvingrove Park.
Who would be your support? Fellow weegie rascals the Cosmic Rough Riders.
Last song you listened to on your iPod? Handshake Drugs by Wilco.
Where can we hear your music? http://jdallan.comhttps://www.facebook.com/JDAllanOfficialhttp://www.youtube.com/JDAllanVideohttp://twitter.com/jdallanhttp://jdallan.bandcamp.com