Campaigners call for more cycle hubs at bus and train stations
Transform Scotland said better facilities for cyclists would positively impact the nation's health.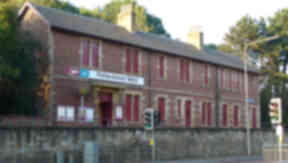 Cycling campaigners in Glasgow are backing a report calling for bike hubs at bus and train stations.
Transform Scotland's Interchange project analysed public transport hubs in cities across Scotland, to show how cycling can increase the reach of bus, train and ferry networks.
Campaigners say Pollokshaws West station, one of just two cycle hubs in Scotland, could be a model for better integration between public transport services and cycling.
The hub provides commuters with a place to lock up their bikes as well as a repair workshop, changing room and showers.
During its research, Transform Scotland analysed 19 bus stations, rail stations and ferry terminals in ten towns and cities.
Now the group, which campaigns for sustainable transport, is calling for investment in more hubs like the one at Pollokshaws West.
A report published following the research report sets out three key recommendations, for active travel hubs at key transport interchanges, the creation of an active travel friendly standard award and the appointment of an active travel architect for the design of new transport facilities.
The campaigners hope investment in these key areas will get more people on their bikes, having a positive impact on sustainable travel and the nation's health.