Gas explosion at ocean terminal sparks 12-hour blaze operation
Two fire crews attended the incident at Greenock Ocean Terminal on Sunday after an acetylene cylinder caught fire.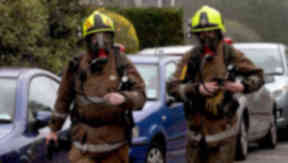 An exploding gas cylinder sparked a major blaze at a dock which took fire crews 12 hours to extinguish.
Two crews from the Scottish Fire and Rescue Service (SFRS) attended the incident at Greenock Ocean Terminal on Sunday night.
They found an acetylene cylinder on fire at a work bay at the dock at around 8.45pm.
Two high-powered jets were used to cool the canister and a 200m exclusion zone was set up around the fire.
Firefighters were in attendance at the dock in Inverclyde until 9am on Monday.
Tests were carried out on the cylinder before it was safely removed and disposed of. No one was injured in the fire.
A spokesman for SFRS said: "Crews attended Greenock Ocean Terminal in response to a report of a acetylene cylinder on fire shortly before 8.45pm on Sunday.
"Two fire crews attended an mobilised to cool the cylinder using high-pressure water jets.
"A 200m exclusion zone was created around the area of the fire for the protection of the public.
"That was then reduced to 100m after the fire was brought under control with police patrolling the outside cordon.
"The cylinder was removed and disposed of after it was cooled and tests carried out. Fire crews were in attendance until around 9am on Monday."