Vocational college set up for pupils not suited to current schools
Jim McColl opened the college for training and education of pupils at risk of dropping out of secondary schools.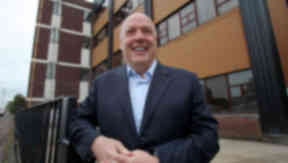 Plans for a new vocational college for teenagers at risk of dropping out of school have been unveiled by one of Scotland's wealthiest businessmen.
Newlands Junior College in Glasgow has been established by Jim McColl, chairman of Clyde Blowers, who believes it will deliver a new form of education and training for youngsters aged between 14 and 16 who are believed to be unsuited to the current secondary school system.
The college is situated close to where Mr McColl trained as an apprentice engineer on the site of the former Weir Pumps factory in Cathcart, Glasgow.
The entrepreneur left school at age 16 with three O' Grades but through further training and studies eventually bought the company he started his apprenticeship with.
The college is being funded by a combination of public and private money, Mr McColl said, with funding in place for an initial five years.
The college is set to open next month and will recruit 30 pupils from local schools in the south side of Glasgow each year.
Detailing the plans to education workers, politicians and business people, Mr McColl said: "My vision is to create a junior college for young teenagers that will give them support and opportunity to move into a successful and rewarding future.
"We've been working on it for the last two years. While the current academic system in secondary schools works for the majority of young people, it doesn't work for a significant minority. I believe the Newlands Junior College model can supply that alternative path.
"These are young people who are as talented as any other people in schools. They have latent talent which hasn't been fully brought out by the academic path."
With "vocationally-oriented educational opportunities", academic lessons and youth development, staff believe it will help students reach their full potential.
English, maths, science and IT lessons will be held as well as vocational training opportunities including engineering, hospitality, administration and creative design.
All students who complete the two-year programme will be guaranteed an apprenticeship place or a college place provided by an industrial or educational partner.
Mr McColl hopes that similar colleges may be established in other parts of the country.
Principal Iain White, formerly the head teacher at Govan High School, said: "We live in a changing world and it's only reasonable that the education system changes to meet the needs of the 21st century.
"One of the bedrocks of the new Curriculum for Excellence is the whole notion of personalisation and choice to meet the needs and aspirations of the young person. Newlands Junior College is perfect to meet these two aims."
He added: "It will provide exciting opportunities for young people in the south of Glasgow that a few years ago could only be dreamt about.
"Its ethos is in line with the four key strategies of the Curriculum for Excellence, namely successful learning, confident individuals, responsible citizens and effective contributors."