Skydiver survives fall from plane without a parachute
East Kilbride man Greg Benson falls 3500 feet during a skydive without a parachute and suffers only minor injuries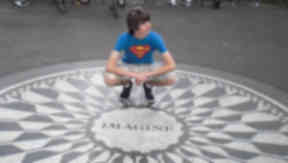 An East Kilbride man has survived a 3500 feet skydive without a parachute, coming away with only minor injuries.
Extreme sports lover Greg Benson has stunned skydiving experts and medical professionals by surviving after falling from the plane at 50 miles per hour.
The 18-year-old was taking part in his fourth skydive at Strathallen Airfield in Auchterarder when the lines of his parachute got caught around his leg.
Greg became a member of the Strathclyde University Skydiving Club when he started studying at the university in September 2011. Between November and February he undertook three skydives with the club and loved them.
Greg said: "It was just something I always knew I would do as soon as I was old enough. I was nervous each time but once you're under your canopy, it's actually quite calm and peaceful."
Greg's fourth jump, on Sunday February 19, wasn't as peaceful because when he exited the plane his canopy didn't deploy fully.
Greg explained: "When you jump out of the plane, you're supposed to do a starfish shape and look up but I think I looked down so I flipped in the air as I was falling.
"When the canopy opens, it is supposed to be big and rectangular above you, but some of my lines were caught underneath my right leg so the right side of my canopy was collapsed and billowing. So I was spiralling down and I had to cut away from my main parachute. But the fact that it was stuck around my leg meant that when I cut away, my reserve parachute couldn't open properly."
Without any parachute, Greg plummeted 3500 feet towards the ground at an average speed of 50 miles per hour.
When asked what was going through his head as he fell, the chemical engineering student revealed that he spent the majority of the plunge swearing as he tried to detangle the parachute from his leg.
He said: "I was swearing a lot and was just trying to fix it. It didn't really dawn on me how quickly I was falling because when you're up so high, you don't have any reference point. It's only as you get closer to the ground that you can tell how quickly you're falling.
"All that was in my mind was trying to get the parachute off my leg. I looked down at about 40 feet and expected to still be about 1000 feet up so was surprised to see the ground coming up towards me at 50 miles an hour.
"I think I fell from 3500 feet in about a minute, you're supposed to be under your canopy for about eight minutes."
Greg can't remember his landing – which was on grass in a field in Strathallen. When he woke up he was surrounded by instructors and members of his skydiving club, who couldn't believe he was alive. Greg was then airlifted to the Southern General Hospital in Glasgow, where he remained for two days.
Incredibly, the Stewartfield man walked away from the fall with just six compression fractures of his vertebrate and two chipped fractures.
"The doctors couldn't find anything at first and as a precaution I wasn't allowed to move while they did more scans until they found it. My dad called the instructors at Strathallen to tell them I was fine, talking and conscious but they didn't think it was possible!
"They said they've seen people get a lot more injured from a lot less of a fall. They were surprised that I was alive, let alone walking about just a few days later.
"The blame is with me and I'd be happy to dive there again. There is no blame with the club, the instructors, the equipment or anything – I think it was just my exit. It's my responsibility because I looked down and flipped in the air."
Greg is still on the fence with regards to any future diving and has postponed a planned bungee jump, not cancelled it.
He said: "I've been point blank told by my parents that I'm not allowed to do it again but I'm still on the fence. I'd like to, but I think when I got into the plane I'd just freeze.
"It hasn't really sunk in yet – I think when it dawns on me it will go one of two ways, I'll either want to try everything or try nothing, there will be no middle ground.
"I would definitely recommended skydiving to anyone – as long as you don't look down!
"Don't let what happened to me put you off skydiving, because it is safe – if it wasn't, I wouldn't be here."
Greg, who is an extreme sports lover – by his own admission because he was 'terrible at traditional sports', is hoping to get back to skiing, snowboarding and scuba diving as soon as his rest period of six months to give his spine time to heal.