Paedophiles who murdered woman and dumped her body at sea appeal life sentences
Charles O'Neill and William Lauchlan were jailed for life with a minimum of 56 years for killing Allison McGarrigle in 1997.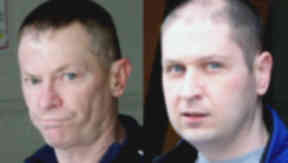 Two paedophile cousins who murdered a woman and dumped her body at sea have been given permission to appeal their life sentences.
Charles O'Neill and William Lauchlan were jailed for life with a minimum of 56 years for killing Allison McGarrigle in 1997.
The pair, described as "evil, determined and manipulative paedophiles of the worst sort" by trial judge Lord Pentland, were convicted of several counts of child abuse that took place after they killed Mrs McGarrigle.
They strangled mother-of-three Mrs McGarrigle at Waterside Street in Largs, Ayrshire, on June 21, 1997, before hiding her body in a wheelie bin, which they then dumped at sea from a boat. They believed that she was going to inform the police of their abuse of a young boy.
The 39-year-old's body has never been found, although in 2005 she was declared dead and the paedophiles were charged.
On Wednesday, Lord Hodge confirmed in a decision at the Court of Criminal Appeal that both O'Neill and Lauchlan were to be given leave to appeal the punishment part of the life terms.
In his opinion, the judge found that the appeal should be allowed as it was "arguable."
O'Neill, the more "dominant personality" in the pair, was sentenced to a minimum of 30 years. Lord Hodge allowed him to appeal this after his counsel submitted that the trial judge erred in fixing the punishment part of the life sentence as it had "historically been reserved for murders of the most horrific kind, including multiple killings and killing by firearms."
At the end of the original trial in 2010, Lauchlan was given a minimum of 26 years, four years less than his cousin, as O'Neill was also convicted of drugging and abusing a 14-year-old boy in June 2003 in a house in Irvine.
Both O'Neill and Lauchlan have been granted leave to argue for an appeal against their murder and attempting to defeat the ends of justice convictions on the basis of possible misdirection of the jury when a police officer was asked for his opinion in court on an expert report about whether Mrs McGarrigle was alive.
As this was not expert opinion, Lord Hodge found that the detective's evidence during the original trial "properly admissible" and allowed the pair to continue with an appeal against their murder conviction.
Both of the killers have been given leave to appeal against a string of sexual abuse convictions after Lauchlan was refused a no case to answer plea at the trial in 2010, as he argued the evidence against him was "circumstantial".
This includes attempting to sexually abuse a 15-year-old boy in Alfaz del Pi, in Benidorm, Spain, after the pair, who were also lovers, had moved there and set up a window cleaning business.
The paedophiles were arrested and initially held in a Spanish jail they did not face further prosecution. They were deported to the UK and jailed in Scotland for breaching their parole.
Once they were released in 2007, they set up home in Blackpool and had to register as sex offenders with Lancashire Police.
Detectives in England were so worried about the possibility of Lauchlan and O'Neill re-offending they put them under round-the-clock surveillance and bugged their van.
On Wednesday Lord Hodge confirmed, the pair have been refused an appeal against grooming and sexually abusing a six-year-old boy in a hotel in Falkirk.
They were arrested after English police found that O'Neill and Lauchlan had placed more than 2000 calls with the boy's mother to arrange a meet up.
Before they were found guilty of murder, Lauchlan and O'Neill were convicted of 31 charges of indecent assault and drug offences in 1998.
O'Neill, a former professional boxer, was sentenced to eight years in prison while Lauchlan was jailed for six years. They had lured children aged between nine and 15 to a house in Skelmorlie, Ayrshire, where they gave them drugs and alcohol before molesting them.
Their appeal will be heard in full at a later date.
IN DETAIL