Commandos march through Glasgow as Marines given key to city
More than 100 Marines are marching through Glasgow as part of the ceremony.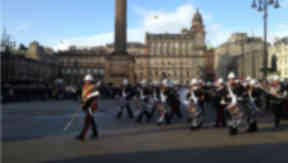 Royal Marines are marching through Glasgow on Saturday as the force is given the key to city.
More than 100 commandos are converging to exercise their freedom with a march through the centre of the city.
The occasion marks the Royal Marines 350th anniversary and their historic links with Glasgow.
The Lord Provost Sadie Docherty is to award the city's highest honour to Commandant General, Major General Martin Smith, who will accept on behalf of the United Kingdom's entire Royal Marine Corps, at a special ceremony in George Square beginning at 10.45 am.
The elite commandos will then exercise their Freedom with swords drawn, bayonets fixed, drums beating and colours flying in a second march across the city during which the Lord Provost Sadie Docherty and Commandant General Major General Martin Smith will take the salute.
This historic move is the third time Freedom of the City has been conferred to military personnel. The Highland Light Infantry (City of Glasgow Regiment) were similarly honoured with Freedom of Entry into the City in 1948 and the Royal Highland Fusiliers in 1959.
The Royal Marines will march from Holland Street to George Square. The route will take in West Regent Street, Douglas Street and Nelson Mandela Place.
Following the Freedom of the City ceremony soldiers will exercise their Freedom by marching from George Square through St Vincent Street, Renfield Street, Union Street, Argyle Street, Queen Street, Ingram Street and South Frederick Street before returning to the square.
The historic move follows a successful motion to council last year by Veterans Champion, Councillor Malcolm Cunning, who said: "Council congratulates the Royal Marine Corps on its upcoming 350th anniversary in 2014.
"Since its formation, the Royal Marines has enjoyed strong links with Glasgow and continues to have a permanent presence in the city, through the Glasgow detachment of the Royal Marines Reserve Scotland, which was raised in Glasgow in 1948.
"Council wishes to demonstrate its highest respect for the proud history of the Royal Marine Corps and the dedication and sacrifices it continues to make to protect the interests of the United Kingdom.
"Therefore, Council agrees to award the Freedom of the City of Glasgow to the Royal Marines, to publicly acknowledge the regard in which the unit is held and highlight the strong relationship that continues between the Royal Marines and Glasgow."
Comedian Billy Connolly was the last person to receive the honour from Glasgow in 2010.