Families of two friends killed in crash call for driver to be prosecuted
Mhairi Convy, 18, and Laura Stewart, 20, were struck by William Payne's Range Rover after it mounted a pavement in Glasgow.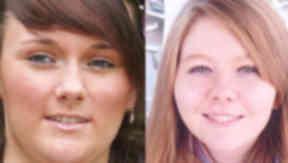 The families of two friends knocked down and killed by a driver with a history of blackouts have called for "justice" and the Crown to prosecute him.
Mhairi Convy, 18, and Laura Stewart, 20, were struck by William Payne's Range Rover after it mounted a pavement in Glasgow city centre in December 2010.
A full judgment has now been issued by a sheriff after a three-week fatal accident inquiry was carried out into the young women's deaths on North Hanover Street, next to Buchanan Galleries.
The sheriff found Ms Convy and Ms Stewart's deaths may have been prevented if Mr Payne had told the DVLA about his previous blackouts.
The young women's families say they believe "lies of William Payne took the lives of two innocent girls".
Payne had a long history of suffering blackouts three to four years before the deaths of Ms Convy and Ms Stewart, the inquiry found.
*Scene of crash on North Hanover Street in Glasgow*He failed to disclose this to the DVLA during a doctor's appointment in relation to his HGV driver's license application in July 2010. A question in the application form asked: "Is there a history of blackout or impaired consciousness within the last 5 years?" Payne answered this question, no, despite his answer being untrue. The inquiry also found he lost consciousness on June 5, 2009, which was the fourth occasion on which he had suffered a blackout in the period since December 25, 2007.Sheriff Andrew Normand ruled that if Mr Payne had gone to hospital in September 2009 for an appointment the young women's deaths may also have been prevented.Sheriff Normand wrote: "The series of blackouts suffered by William Payne did not cause him to give up driving, or to ask any doctor for advice about driving, or to report his condition to the DVLA, and further that in a driving licence renewal examination and application a few months before the fatal accident he failed to disclose his history of blackouts."A statement from the families after the ruling read: "Both of our families are completely devastated by the tragic deaths of our girls at such a young age. "The lies of one man, described in the determination as less than entirely frank, self-serving and lacking in credibility, took the lives of our two innocent girls and his actions have killed a piece of all of us.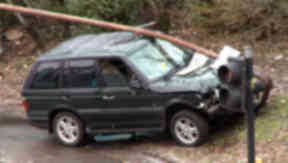 *Wlliam Payne's 4 x 4 after crash*"We welcome this determination. We would like to thank Sheriff Normand for the fair and balanced way he oversaw the Fatal Accident Inquiry. We have waited for justice for Mhairi and Laura for nearly four years, putting our belief in the criminal justice and legal systems."The lawyer acting for the women's families told Payne during the inquiry that "responsibility rests squarely" with him for the loss of two "innocent" young women.Payne faced a series of questions from Dorothy Bain, the QC representing the families of the two women, but he refused to answer many of them.Ms Bain accused Payne of being "totally and utterly unreliable about his medical history". She went on: "If you had answered 'yes' (on the document), you would not have been allowed to drive."You were reckless to the safety of other people using the streets because as we have seen today you are just looking out for number one. That should be your mantra - number 1, that is what matters."
The family statement adds: "We waited these long and extremely difficult years for the Crown to make a decision on whether to prosecute William Payne.
"Their continuing failure to make that decision has meant we have had to undergo the further unnecessary agony of a FAI, lasting three traumatic weeks spread across nine months of this year. Our waiting continues. That is incomprehensible to us.
"A lack of comprehensive investigation and delay has brought about no resolution, only a Fatal Accident Inquiry which was ill-prepared by the Crown, incompetently presented and unnecessarily limited in what it could examine and determine.
"The emotional and financial burden of uncovering much of the evidence discussed in the FAI fell on us and our legal team. Our deepest heartfelt thanks go to those who continue with us in our fight for justice for Laura and Mhairi – Fraser Simpson and Colin Moffat at Digby Brown and Dorothy Bain QC.
"Much time and attention was focused on Mr Payne's human rights. What about Mhairi and Laura's rights to life? This is not how it should be. Our girls deserve better.
"Sheriff Normand has given us a ray of hope in this determination however. He twice, rightly, refers to the explicit commitments made by the Crown Office and Procurator Fiscal Service that they reserve the right to prosecute and will now review the case again.
"It is our deep hope that they are true to their word. A prosecution and a criminal trial would offer the chance of justice for the loss of two beautiful young women.
"It is in the gift of the Crown to see justice served and send a message to the wider public that such conduct will not be tolerated. In, doing so, the Crown may be able to prevent other families from suffering in the same way as we have."
Sheriff Andrew Normand's full written determination can be found here