Anas Sarwar welcomes decision not to close train stations
MP Anas Sarwar welcomes confirmation from the government that train stations won't close.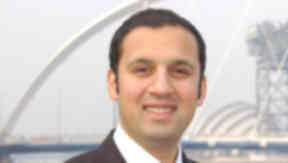 Congratulations and well done to all who were involved in forcing the Scottish Government's Transport Secretary, Keith Brown, to give an absolute assurance that no station in our city will be forced to close.
Thousands of Glaswegians campaigned: at train stations, in the local and national media, on doorsteps, at community groups and online in response to Transport Scotland's consultation document examining Scotland's rail network.
As part of that consultation they planned to look at a number of stations judged to be in close proximity to another station.
Fourteen were identified across the country and of those, nine stations were within our city: Ashfield, Barnhill, Duke Street, Gilshochill, Kelvindale, Kennishead, Maryhill, Mosspark and Nitshill.
Closing these stations would have put huge pressures on surrounding stations and removed vital transport links not just from commuters but from vulnerable members of our communities.
I welcome Mr Brown's u-turn on Monday when he announced that these stations will now remain open.
It is to the credit of our city that people power has made the Scottish Government see sense.
Glasgow City Council, Strathclyde Partnership for Transport, city MPs, MSPs, local councillors across most political parties, commuters and members of the public all came together to back a Labour led campaign to stop these closures.
Patricia Ferguson MSP led a debate in the Scottish Parliament and thousands of people signed Labour's petition calling on the Scottish Government to withdraw these plans.
I am delighted that their voice has been heard.
In 2014 the current ScotRail franchise will end and It is right that the Scottish Government holds a consultation to seek the public's views on how the rail network can better serve the travelling public and provide value for money to the taxpayer.
In Glasgow we rely to a greater extent on our public transport system than the rest of the country.
Only 58% of Glaswegians have access to a car, demonstrating that to large parts of our city these rail services provide a lifeline to many Glaswegians.
I am keen to debate these issues and to discuss how we can improve rail travel and promote it as an alternative to cars both to ease congestion, but more importantly as a sustainable method of transport.
To do this we need to have a flexible network that makes it easier for commuters to chose the train and not make it harder for people to make their daily journey.
We must invest in our city's transport and infrastructure and I am delighted that people across our city responded to this consultation and told the Scottish Government that Glasgow's vital community services are not an easy target for their cuts.