Top prosecutor meets FBI director to discuss Lockerbie probe
Lord Advocate Frank Mulholland QC described Friday's talks with James Comey as 'very useful'.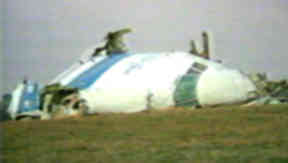 Scotland's top law officer has met the director of the FBI to discuss progress in the investigation into the Lockerbie bombing.
Lord Advocate Frank Mulholland QC described Friday's talks with James Comey as "very useful" and said they discussed in detail various avenues of inquiry currently being examined.
Mr Mulholland said: "Despite the difficulties we remain hopeful that progress will be made."
The Lord Advocate also met the Libyan ambassador to the UK last week, who, he said, voiced the commitment of the Libyan authorities to help bring others involved in the atrocity to justice.
Libyan Abdelbaset al-Megrahi is the only person to have been convicted of the bombing of Pan Am flight 103 over the south of Scotland on December 21, 1988, in which 270 people were killed.
Mr Mulholland will shortly reveal details of his recent high-level meetings during a speech in the United States on the 26th anniversary of the tragedy.
He is to address some of the relatives of those died at a memorial service at the Arlington cemetery in Washington.
Atlantic
Speaking on his third visit to Arlington, Mr Mulholland will say he wants to "demonstrate in action and words our commitment to continuing our work to bring the others involved in the appalling act of terrorism to justice".
He will say: "You know more than anyone else that justice has often been delayed in this case. There have been long periods in the last 26 years when it was not possible to make progress and we have all had to be patient, which is frustrating.
"If I can give you a message today, and it is one I wanted to give you all in person, it is to urge you not to give up hope that others will eventually be brought to justice. We investigators and prosecutors both sides of the Atlantic are as committed to this quest for justice as we have ever been."
Accompanied by Police Scotland's new senior investigating officer in the case, Detective Superintendent Gerry McLean, Mr Mulholland insists his determination to make progress with the ongoing investigation "remains as strong as ever".
He will say: "To reinforce that message, I met last week with the Libyan Ambassador to the UK.
"He asked me to reassure you that his thoughts are with you at this difficult time and reiterated the commitment of the Libyan authorities to work with us to gather the evidence from Libya to bring the others who worked with Megrahi in the murder of your loved ones to justice.
"I also keep in close contact with the UK ambassador to Libya who is currently based in Tunis and get regular, updates on what is happening. He continues to offer the full support of the UK government to our endeavours, and has been able to get information for us which has been helpful in shaping our approach going forward."
Pursued
Details of the ongoing investigation have not and will not be made public, the Lord Advocate insists.
"What I can say however is that in addition to the lines of enquiry in Libya there are other lines currently being pursued outwith Libya," he will add.
"We remain cautiously optimistic that these lines of enquiry will bear fruit."
The aircraft was on its way from London to New York when it exploded above Lockerbie.
Megrahi, who was convicted of the bombing and given a life sentence, was controversially released from jail by the Scottish government on compassionate grounds in August 2009 after being diagnosed with prostate cancer and given three months to live.
He died protesting his innocence in Tripoli in May 2012.
A relative of one of those killed in the bombing, Jim Swire, earlier expressed his disappointment at Mr Mulholland's comments affirming Megrahi's guilt.
Dr Swire told Sky News: "For the Lord Advocate to say there isn't a shred of evidence to suggest that the trial was anything other than what it should have been is analogous with the late Mandy Rice-Davies when she says 'he would say that, wouldn't he'."
He added that Mr Mulholland "wasn't around at the time of Lockerbie, whereas I was, unfortunately".
"Twenty-six years ago is a long time and I suppose he means people currently in his Crown Office don't believe there is anything wrong with the evidence.
"But I think if you open your eyes and look you cannot fail to see that there is a problem.
"More importantly than that, Scotland's own Criminal Cases Review Commission years ago found six reasons why this case should be revisited and reviewed.
"So for the Lord Advocate now to say there isn't a shred of evidence flies in the face of what the Scottish Criminal Cases Review Commission actually told the world years ago."