Rangers owner Craig Whyte fined £200,000 and banned from Scottish football for life
The Ibrox club was also fined and hit with a player registration embargo by the Scottish FA.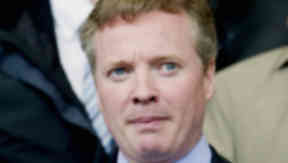 Rangers owner Craig Whyte was fined and banned for life from "any participation" in Scottish football on Monday night.
The majority shareholder of the Ibrox club was found to have brought the game into disrepute by a judicial panel appointed by the Scottish Football Association (SFA).
He was fined a total of £200,000, payabled within 30 days, for a range of breaches of the association's rules and regulations.
Included in the findings was that Mr Whyte had three times failed to follow the directions of the tribunal that he had previously described as "farcical". The ban for life prohibits Mr Whyte from being an "official" at a football club in Scotland, but it does not affect his ability to own shares in Rangers.
The decision was a result of the independent inquiry into Mr Whyte's takeover and running of the club since last May, which was chaired by Lord Nimmo Smith.
Rangers were also fined £160,000 by the SFA as a result of the rule breaches and were hit with a 12 month player registration embargo as punishment.
The SFA said both parties have three days to appeal the decision of the judicial panel, while full reasons for the findings will be released by the governing body in due course.
In response to the ruling, Mr Whyte told Press Association Sport: "Tell me how it is going to affect me? I couldn't care less. It makes no difference to my life whatsoever - and good luck collecting the money. It's a joke.
"It is very harsh on Rangers. I am surprised at how harsh the SFA have been on a club which is going through tough times at the moment.
"Stewart Regan (chief executive) and Campbell Ogilvie (president) should resign and get out of Scottish football. The SFA want to kick Rangers when they are down and I hope people remember that. They are playing to the media."
Paul Clark, joint administrator, said: "All of us working on behalf of the club are utterly shocked and dismayed by the draconian sanctions imposed on Rangers in respect of these charges. It appears that on one hand the disciplinary panel accepted our central argument that responsibility for bringing the club into disrepute lay with the actions of one individual - Craig Whyte - as is evident from the unprecedented punishment meted out to him.
"During this hearing the club produced compelling evidence from a number of sources that following his takeover, Craig Whyte ran the club in a thoroughly unaccountable manner, rather than adhering to a long-established and proper form of corporate governance. The thrust of the charges against the club focused on non-payment of payroll taxes and evidence was produced that all such decisions in this area were taken by Craig Whyte during his tenure.
"Given this evidence, it is difficult to comprehend that the disciplinary panel has seen fit to effectively punish the club even more heavily than Mr Whyte. As everyone knows, it has already been decided he is not a fit and proper person to run a football club and any further punishment on him will have little or no impact. However, for Rangers, a ban on signing players will seriously undermine the club's efforts to rebuild after being rendered insolvent.
"Furthermore, we do not know how bidders for the club will react to these sanctions and what affect they will have on their proposals. The club has asked for full written reasons for these decisions and intend to appeal against the findings."
IN DETAIL