Ex-Celtic player found slumped in Rolls Royce with bottle of wine
David Cattanach claimed he stank of alcohol as he ran a pub and had the bottle with him as he went to a bottle bank.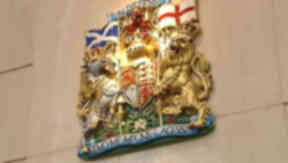 A former Celtic player was found slumped at the wheel of his Rolls Royce with an empty bottle of rose wine by his side.
David Cattanach, who played for the Parkhead club between 1963 to 1972, was found locked inside the car having parked across a road, blocking traffic in both directions.
Falkirk Sheriff Court heard on Wednesday Cattanach eventually managed to get out of the car before stumbling onto the roadside, where he failed to provide to a test.
He told officers he stank of alcohol because he ran a pub and that he had a bottle of wine beside him because he was off to the bottle bank.
The former defender who went on to play for Falkirk after 19 Celtic appearance was found guilty by Sheriff Craig Caldwell of drink-driving and banned from the road for two years.
Cattanach, who runs The Three Kings wedding venue in Falkirk, told the court: "I was going to put the bottle of wine into the bottle bank. That's why I had it. Also, the smell of alcohol could have been off my clothes as I'd been to my residence that morning."
The 65-year-old, of Orchard Street, Falkirk, had denied driving the Rolls Royce saloon in the town's Weir Street, while unfit through drink or drugs on September 7, 2011. He also denied that at Falkirk Police Station on the same day he failed to provide two specimens of breath for analysis.
However, Sheriff Caldwell said he did not believe Cattanach, and banned him for driving for two years, as well as fining him £800.
He told the retired footballer: "You should have been nowhere near a motor car. You were extremely drunk and didn't know what you were doing. You were significantly under the influence and that would have shown up with a very high reading if you'd have taken the test."