Mumps warning at Glasgow University after ten students hit by infection
Staff issued a warning to students after ten people recently diagnosed with the illness.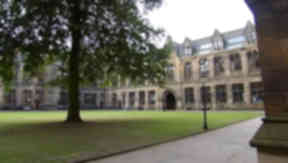 Students have been warned after an outbreak of mumps at a Scots university.
Staff at Glasgow University issued an alert to students after ten students were recently diagnosed with the infection.
The gender, age of students affected is not yet known but it comes just days after a mumps outbreak among young adults in Lanarkshire.
More than 30 people, mostly aged between 25 and 35, were infected in two weeks across Cumbernauld, Lanark and Biggar.
There has also been a threefold increase in the number of cases of mumps in Scotland in the first three weeks of this year.
A total of 98 cases have been reported, compared to 36 for the whole of January 2014.
The majority of those infected are young adults in Glasgow, Lanarkshire and Edinburgh.
A university spokesman said: "There have been a small number of cases of students diagnosed with mumps at University of Glasgow.
"It's important to stay at home and rest while the virus runs its course and prevent it spreading.
"Mumps is a mild condition but if you think you have symptoms seek advice from your GP as soon as possible.
"You should also consider checking whether you have been inoculated which would protect you from contracting it.
"Again, check with your GP or contact the Barclay medical centre."
An outbreak of mumps among young adults in Lanarkshire has seen more than 30 people infected in two weeks.
Health bosses are urging those aged between 20 and 35 to get both doses of the MMR vaccination if they have not already done so.
It follows a ten-fold increase in the expected number of mumps cases in Lanarkshire, with 31 cases identified since January 7, compared with an average of around three or four cases a month.
The majority of those affected have been men aged between 20 and 35 and most reside around Cumbernauld, Lanark and Biggar.
All Lanarkshire GPs have been notified of the increase in cases.
Mumps is highly infectious and can be spread over a wide area by a cough or a sneeze from an infected individual. It is particularly common in student populations because of greater social mixing.
The virus can lead to fever, headache, and painful, swollen glands in the face, neck and jaw. In serious cases it can result in permanent deafness, viral meningitis and encephalitis.
Health officials stressed that it is normally a mild illness but that immunisation is important to prevent complications.
Dr David Cromie, NHS Lanarkshire consultant in public health medicine, said: "Mumps is a viral disease, usually experienced during childhood, but people of any age can be affected if they have not had the illness before or have not been fully vaccinated.
"Symptoms can include fever, headache, swelling of one or both cheeks or sides of the jaw, and swollen glands.
"It's an infection that can have serious complications including affecting the brain and, in very rare cases, can lead to fatal complications. If you have any of the symptoms, contact your GP. Tests can be carried out to confirm the illness."
The MMR vaccine, routinely given to young children, is said to be the most effective way to protect against mumps. Anyone unsure about their vaccination history is being urged to check with their GP.
"Two doses of the MMR vaccine provide a 99% chance of protection," Dr Cromie added.
"People who are currently between 20 and 35 years of age, (born between 1980 and 1995), will tend not to have experienced natural mumps infection.
"So, unless they have had two doses of the MMR vaccine, these people will be at a higher risk of suffering from mumps, particularly when the mumps illness is circulating in the community, as at present, or when travelling abroad to countries where mumps spreads more commonly.
"Those who have had one dose of the MMR vaccine only need one more dose to complete the course."