Campaigners remembered at opening of new £1m Croy sports pitch
Only one of the three original campaigners for the facility is still surviving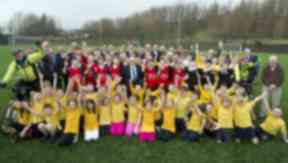 A Croy man has paid tribute to two fellow villagers who didn't live to see their dream of a sports pitch and pavilion in the area.
John McColl, James Hunt and Francis Griffin campaigned for may years for a community sports facility in Croy.
Last month, the dream was finally realised with the opening of the £1million Antonine community sport hub.
At the opening, John McColl, the only surviving member of the campaigning trio, remembered the efforts of his fellow villagers.
He said: "James, a community councillor for many years, and Francis, who served as a North Lanarkshire councillor, would have been proud to see this magnificent facility open.
"Along with many, many others, they put in so much time and effort to realise their goal and I would like to thank North Lanarkshire Council and Sportscotland for their support."
The sports facility, which features a full-size 3G pitch and a clubhouse, is set to be used by sports clubs and local schools throughout Croy, Cumbernauld and Kilsyth.
Francis Griffin's son Mark, who now serves as a Central Scotland MSP, was also at the opening of the hub.
He said: "A sports facility has been long overdue for young people in the area to enjoy.
"Over the last four years, I have been honoured to continue the work my father and others started and it was a proud moment to see it finally open."
The pitch, which is located near Croy railway station, will accommodate a number of sports, including rugby and football.
Stewart Harris, chief executive of Sportscotland, said: "Our aim is to work with local partners to deliver more and better opportunities for people to take part in sport.
"We invested more than £435,600 into this project at Croy as we recognised the impact that a well-designed facility could make on the lvies of the local community, providing a home for a number of clubs and sports.
"We will continue to work closely with our partners in North Lanarkshire Council and the local community to develop this sport hub to really meet the needs of the people of Croy now and in the future."