Restoration of 'modernist masterpiece' St Peter's Seminary to begin
St Peter's Seminary in Cardross to be turned into £7m arts venue after being abandoned in the 1980s.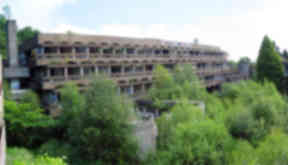 A major project to convert a derelict, A-listed building into a multi-million pounds arts venue, is under way in Argyll and Bute.
St Peter's Seminary in Cardross was hailed as a "modernist masterpiece" when it was built as a training college for priests in the early 1960s.
By 1980 the number of candidates entering the priesthood had declined and the building fell into disuse.
Described by the international architecture conservation organisation Docomomo as a modern "building of world significance", the Arts organisation NVA has taken on the massive task of restoring the site to its former glory.
The organisation has ten months left to raise the final £2m to reach the £7m total needed to refurbish the buildings but builders are due to arrive on site this week to start the first works.
In 2008, the seminary was included on the world monument funds list of 100 most endangered sites but now its future looks to have been secured.
St Peters is due to open in its new form in 2017.