Dave King insists he has a Nomad lined up ahead of Rangers takeover
King says he has personal funds he is ready to commit to running the troubled Ibrox club.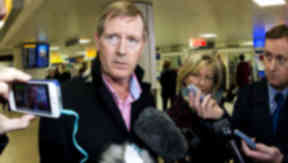 Dave King has insisted that he has lined up a Stock Exchange nominated adviser for Rangers ahead of him assuming control at Ibrox.
Former Rangers oldco director King is set to claim victory at the club's EGM on Friday where his move to oust current board members Derek Llambias and Barry Leach and replace them with himself and his allies will be carried by what he claims will be a "landslide" majority.
Chief executive Llambias has questioned King's ability to fund the club after his takeover.
Furthermore, following the announcement that trading in Rangers shares was suspended following the resignation of its nominated adviser (Nomad), Llambias was sceptical about King's ability to find a replacement to allow the company to continue to trade on the Stock Exchange.
Arriving at Glasgow Airport ahead of the EGM, King said that he already had a Nomad who were happy to deal with him and that they would act for Rangers if happy with the club's accounts. He would not reveal the identity of the company involved but when asked to confirm he had one lined up he said:
"Yes but when you say 'I have a Nomad' ....I think we've addressed the money issue. I think the point I wanted to make is it's not my Nomad. The club has to have a Nomad.
"I think Llambias should understand that. He's confusing the AIM listing with the club. It's the club that has to have the Nomad.
"All I have done is, in advance of the change of board, ensured there is another Nomad willing to come in. The club has to appoint them so that process can only happen after the general meeting.
"I've got one [lined up] who has done due diligence on the individuals but the key component for any Nomad is the club itself.
"Nomads are concerned about the financial affairs of the club. It's the one area where I've been able to give no more input than what I've read in the newspapers.
"If we succeed tomorrow, and I think we will, then we will get it immediately. It's a process that would be done in a day or so."
Rangers have already begun the process of drawing down the second £5m of Mike Ashley's £10m loan and Llambias earlier told STV it because the club "had to" and had "a duty to".
Asked if King was not able to provide those required funds, the chief executive replied "Has he offered to provide those funds? No he hasn't."
On Thursday evening, King responded by claiming that he had the funds required to invest in Rangers, in conjunction with other investors.
"I don't have [all the money required] but I think if you look at money I have agreed previously is that I would go 50/50 with other investors," he said. "Between myself and the other investors I think we have sufficient to take it forward in the medium term.
"It's difficult to say [how much]. I said about £20m in the short term but I'm concerned there's other areas of the club where money's needed to be spent as well. I think it'll be north of £20m in the short- to medium-term.
"The arrangement that I've had in the proposals that I gave to the boards was that I would take on 50% of the funding and that I expected other individuals to take on the other 50%. That's where your Paul Murrays, George Lethems, Brian Kennedys and Douglas Parks all come in.
"It would be a 50/50 split but I don't see me as carrying the sole burden. Initially we thought £16m to £20m would be the right level for the next couple of years ... but right now my indication is that the figure would be higher."