Scottish FA slam 'unworkable' plan for fans' right to buy their club
The proposals to give football supporters the right to buy their clubs was backed by MSPs at Holyrood on Wednesday.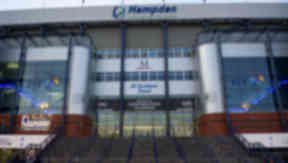 The Scottish FA has slammed "unworkable" plans backed by MSPs to allow supporters the right to buy their club.
The proposals to give football supporters the right to buy their clubs was backed by MSPs at Holyrood on Wednesday.
All members of the local government and community committee at Holyrood gave support as Green MSP Alison Johnstone successfully introduced amendments to the Community Empowerment Bill to bring in a fans' right to buy their football clubs at any time.
The amendments were signed by Labour MSP Ken Macintosh and were backed by the committee.
The campaign has also been backed by Scotland's leading anti-sectarianism charity Nil By Mouth, by Supporters Direct, and by others in the supporter ownership movement.
In the committee meeting the minister pledged support for a legislative approach to the problems of Scottish football. It is now expected to see changes and refinements to these proposals before parliament finally approves the Bill.
Ms Johnstone, who lodged the amendments, said: "This is an extraordinary day for the future of Scottish football. We know how badly the game has been struggling, from Gretna to Hearts and Rangers, and we know fan ownership works."
However Scotland's footballing authorities hit out at the move and said they were "astonished" by the support at Holyrood.
The Scottish FA and the Scottish Professional Football League criticised the plans as "impractical and unworkable" and said they were considering their position.
In a joint statement, they said: "The Scottish football authorities, in conjunction with sportscotland and Supporters Direct Scotland, have been involved in the working group on supporter involvement in football clubs since April 2014.
"This group was convened by Shona Robison, Cabinet Secretary for Health, Wellbeing and Sport, to provide meaningful, practical recommendations aimed at enhancing supporter involvement in their local clubs.
"These discussions - involving senior managers of the Scottish FA and Scottish Professional Football League - culminated in a series of proposals published on January 30, with the intention to facilitate and cultivate improved supporter involvement.
"This included a clear statement that 'a legislative approach was not considered desirable or necessary as this stage.
"We are astonished, therefore, by the impractical and unworkable amendments put forward by the Scottish Green Party - and approved by the Scottish Parliament - which effectively disregard almost a year of constructive partnership by all organisations represented on the working group.
"We will consider our position along with our working group colleagues in early course."
Supporters Direct Scotland (SDS) gave its support to the decision to approve the amendments however.
Its head Andrew Jenkin said: "Supporters Direct Scotland was set up to support fan ownership of Scottish clubs, and we believe a well-constructed right to buy could be a game-changer for Scottish football.
"We welcome the decision of the committee today in agreeing unanimously to these proposals and congratulate Alison Johnstone on her continued work on supporter involvement in Scottish football."