Thousands of protesters gather for anti-Trident demonstration
Police Scotland said up to 4,000 people were involved in the Glasgow protest.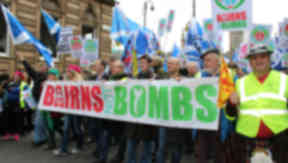 Thousands of anti-nuclear protesters have come together in a major rally calling on politicians to scrap Trident.
The demonstration heard speeches by First Minister Nicola Sturgeon and Patrick Harvie, of the Scottish Greens, at a gathering in the city's George Square.
The Bairns not Bombs rally had marched through the city centre earlier on Saturday.
Police Scotland said up to 4,000 people were involved in the protest.
The rally will be followed on April 13 by a blockade of Faslane naval base, home of the UK's nuclear deterrent.
The First Minister told the crowd: "We gather here today on the eve of the most important UK election in living memory.
"Never before have the establishment Westminster parties been so unpopular – and never has there been a greater opportunity to build a progressive alliance across these islands to chart a different course.
"And nothing sets these two visions apart more than the nuclear weapons sitting just a few miles down the river Clyde.
"One of the biggest decisions that MPs will take in the next Parliament is whether to waste £100bn on renewing these morally obscene weapons.
"Broken down, that'll be around £3 billion a year, peaking at an eye-watering £4 billion in the 2020s.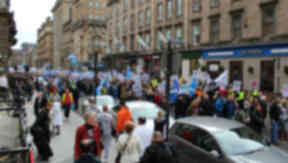 "We all know that Trident is morally unjustifiable, but at a time when the Westminster parties are all committed to forcing yet more austerity on us after the election – Trident is economically indefensible. "Just think of what could be achieved with this money for the NHS, education or other public services – not just in Scotland, but across the UK."She continued: "The MPs you elect next month will decide whether we renew Trident. "The choice could not be clearer - and your vote has never been more important. "You can vote to spend £100bn on a new generation of weapons of mass destruction. "Or you can vote to spend £100bn on building a fairer and more prosperous society. "I have been against nuclear weapons all of my life – indeed, I was a member of the CND before I was a member of the SNP. "I give you my cast-iron assurance SNP MPs will never support Trident – and that is why we need as many SNP MPs as possible in the House of Commons. "Future generations will never forgive us if we make the wrong choice."
Scottish Green party co-convenor Patrick Harvie told the crowd: "There's a wave of anger up and down Scotland and throughout these islands at the idea of cutting billions from the budget that support the most vulnerable people in society, while spending even more billions on a new generation of weapons of mass destruction.
"Your job over the coming weeks is to make sure people hear the alternative voice.
"You need to take the message out day after day, to friends, family, your colleagues, your neighbours, make sure they bring the issue of Trident to the top of the political agenda when they decide how they will cast their vote."
Veronika Tudhope, vice chair of Scottish CND, said: "No matter which side you were on, the referendum campaign put Trident where it should be - at the centre of the political debate.
"More people than ever are aware that Britain's nuclear weapons are based only 40 miles from Glasgow, making us all less secure under constant threat of accident, terrorist attack, or even enemy attack.
"The majority of the public are no longer willing to accept the deterrence argument. We know the world will be a safer place for everyone without nuclear weapons and we want to start that process here in Scotland."