Council passes policy calling for regulation of bus network
Glasgow City Council has passed policy calling for the government to regulate the bus network.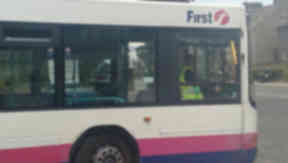 Glasgow City Council has called for the Scottish Government to put the city's bus network back into public control following a series of cuts and fare increases by operator First.
The policy was passed at the last full council meeting before May's elections and the motion on buses – written by Labour councillor and Strathclyde Partnership for Transport chair Jonathan Findlay – was the most divisive issue of meeting, with angry exchanges between Labour and the SNP.
The controversial debate comes as operator First announced details of a fare hike which will take place on Sunday, which will see increases of over 20% to many fares.
During the debate on buses, Councillor Findlay hit out at the SNP, who he blamed for bus cuts, saying: "What about the SNP Government? What have they done to help? The answer, unfortunately, is nothing.
"In fact, it's worse than that. Cuts by the SNP Government to the bus service operators' grant and to the concessionary travel scheme will hit services in this city and in other urban areas particularly badly."
The bus network was taken out of public control in the 1980s and sold off to private companies. Any form of re regulation back into public control would have to be implemented by the Scottish Government.
There have been growing calls for local authorities or transport organisations to take over responsibility bus routes, frequency and timetabling since First announced it was cutting routes last month.
Councillor Findlay's motion calls for the franchising of services so that the local council or other public body could stipulate what routes were needed in the city and how often these buses should run.
The contracts for these routes would be bundled together and put out to tender to the private sector. This method would mean that bus companies would be forced to run specific routes and compelled to run buses on all days and all times of the day, not just at the profitable pre 6pm period.
SNP councillors hit back at the motion, saying that re regulation would be too costly and that Labour could have introduced when they were in government.
Labour business manager Graeme Hendry said: "This is a pass the buck motion from Labour. They had plenty of opportunity to implement re regulation before now,
"Labour didn't implement regulation because it would cost £800m. Where would they suggest we take that money from?
"Investment from the Scottish Government into transport has never been higher. Only this week they announced £250m for the Subway upgrade.
"SPT has the powers to bring in franchising."
The Green party hit back at the SNP assertion that re regulation would cost £800m.
Patrick Harvie MSP, who recently launched a 'Better Bus' campaign, said: ""Greens have long campaigned for public transport and it's pleasing to see other parties realising the importance of the buses in Glasgow.
"A suggestion by the SNP that we can't afford to regulate the bus companies is ludicrous. We already give substantial public funds to private operators and should expect a decent service."