Five-a-day: Easter Egg Motorbike Run, Hatching Out and Easter egg treasure hunt
Five things taking place in Glasgow this Easter Sunday.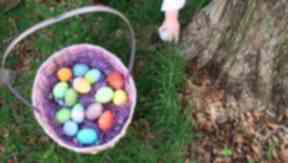 It's Easter Sunday and there are lots of great things taking place in the city.
Do you have your boiled eggs at the ready? Take your patterned eggs to Kelvingrove Park and roll them down one of the many hills. Will yours survive? There's only one way to find out!
The Yorkhill Easter Egg Motorbike Run has been a tradition in Glasgow for many years, and to bikers, is the unofficial start of the motorcycle season. The run has raised over £150,000 over the years, with nearly £20,000 being raised in 2011. Today from 11am thousands of motorbikes, trikes and scooters will gather on Easter Sunday to take part in the huge procession through the west end of Glasgow, culminating at Yorkhill Hospital, where they will drop off Easter Eggs and donations for the sick children. Those children who are able are brought from the wards to see the amazing display of bikes and sometimes even get a chance to have a go. There will also be food and drink from Braveheart Catering and music from Radio Lollipop and Real Radio XS.
Hatching Out is taking place at the Science Centre. Meet the new chicks on floor two this Easter and discover what they had to do to hatch out! It is suitable for all ages and lasts 20 minutes. It will take place at 11.30am, 12.30pm and 4pm.
Join the Countryside Rangers at the Old Stable Courtyard Visitor Centre in Pollok Park for an alternative Easter egg treasure hunt. And if you are still hungry for more, scramble into the Visitor Centre for games and activities. The fun will kick of at 12noon and finish around 3.30pm.
If you still have a few Easter presents to buy or just fancy a spot of shopping then why not head along to the Little Birds Market. It will be setting up shop at Sloans Glasgow with an exciting line up of 25 vintage, craft and design sellers, a vintage tearoom and gift voucher prize giveaways to spend on the day. From 12 noon until 5pm the 1st and 2nd floors of Sloans will host a wonderful selection of vintage and handmade clothes, millinery, jewellery, bags & accessories, slate mosaics, handmade cushions, cupcakes and jams as well as stylish stationery, cards, art, gifts and homewares. Treat yourself to an Easter feast in Mrs Sloans Cake Salon on Sloans first floor which will be serving up delicious cakes, brunch and afternoon teas all day long. And since it's Easter there will also be a face painter in attendance to help keep the little ones occupied when their mums, big sisters and aunts are getting their vintage and craft shopping fix.
Are you organising an event you want Glasgow to know about? Let us know by emailing us.
IN DETAIL
The Yorkhill Easter Egg Motorbike Run