Horses targeted for theft in South Lanarkshire
Police issue warning after breeder finds horses marked by rustlers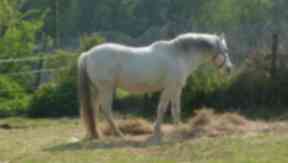 Police have issued a warning to breeders to be aware of rustlers after a pair of horses were found 'marked' in a Lanarkshire field.
An Auldhouse farmer contacted police after finding that two of his horses had their manes and tails plaited – a technique often used by gangs to highlight which animals to take.
Police are now warning farmers to be vigilant and get in contact if they come across any changes to their horses appearance.
PC David Wesencraft said: "Unless you are regularly checking the horses or cattle they can easily be tempted away by thieves.
"Much of the value of the horse comes from the breeding and if you steal the horse away from its breeder then it loses value. The farmer is left having to replace the horse with a beast which is not part of the breeding line.
"Plaiting the manes and tails is prepping the horse for a theft and we would ask locals to be vigilant.
"If anything looks out of place don't hesitate to contact the police. The farming community is close knit and sharing information is important.
"Horses can be worth thousands of pounds, if you've got nothing and nick a horse you instantly have something. The impact to the victim is much bigger than the financial loss."
Police say the thieves are enticing horses into the edge of the field where they have their manes braided. The horses are then targeted hours or sometimes days later.
The latest incident at the farm between Strathaven and East Kilbride took place on April 1 and follows reports of an attempted theft of three horses near Mennock Pass in South Lanarkshire between Sanquhar and junction 14 on the M74.
Animal welfare charity the Scottish SPCA has already issued a warning to horse and pony owners after they received reports on horses being targeted in Biggar, Alloa and Peebles.
However, horse breeders in the area say the reports do not come as a surprise.
Robert Lightbody of Netherfield House in Strathaven said: "As far as targeting is concerned this is something that has been happening for years.
"I wouldn't say there is a particular problem I've heard of South Lanarkshire, I've never had any issues with it.
"I would say it would there is more of a problem with sheep rustlers in the area than there are with horse thefts."
Racehorse breeder Linda Perratt from North Allerton Farm said: "We breed thoroughbreds and so far we've been fine.
"From our perspective we don't tag our horses because they are thoroughbred, so whether other breeders do I'm not sure, that would make them easier to track if they were then stolen."
Anyone with information on horse tagging in the area is asked to contact police on 01698 483300 or contact Crimestoppers anonymously on 0800 555111.