The comic shop that's not just for super heroes
Merchant City store, Plan B, caters to graphic novel and comic book fans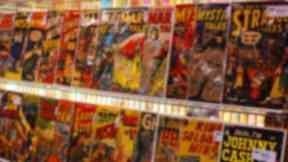 Maybe the Simpsons has a lot to answer for, but thanks to Comic Book Guy, most people wouldn't necessarily think of a comic shop as a sociable place.
However, Plan B Books, tucked away on Parnie Street, is changing all that.
While it does have racks of the latest graphic novels and new issues of a range of different comic titles on the shelves, it also has coffee on offer, and a range of events to bring people in to the shop to socialise.
For starters, it's about to begin a new series of life drawing classes, from May 10.
Tom and his business partner Peter Renshaw are also hoping to put on comic comedy – a successful few nights already ran during the Glasgow Comedy Festival – and a bad movie night, where naff films are given a reappraisal.
"We just want to provide a bit more than shopping," Tom added. "We also run a book group, which is a regular event, focussing on different graphic novels each time."
The wide range of genres in Plan B is another point which makes it stand out from the crowd.
Tom said: "Most people think of comics as all about super heroes. That's fine, and we stock them, but there is so much more to this as an art form.
"There's a lot of really interesting work happening, and in fact a lot of our sales come from things like biographies, and current affairs and history.
"At the moment, for our book group, we're featuring 'My Friend Dahmer' – which is by a guy, John Backderf, who actually went to school with the serial killer Jeffrey Dahmer.
"It's about how he was when he knew him and it's a really interesting portrayal.
"During the book group we are going to have a Skype call with the artist, and it means people will be able to talk and pose questions to him which is quite exciting."It gives people a chance to interact a bit more with the authors."
Plan B Books, 55 Parnie Street, Merchant City. Visit the website for more information and to book a place at any of these events.