Kevin McDermott makes onstage return in Bellshill
Ahead of his gig at the Cultural Centre, the singer/songwriter speaks to STV about his live return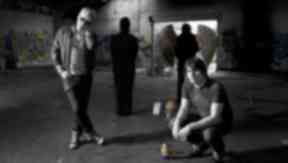 Watch out if you are sitting anywhere near the front, the four guys on stage are set to make a racket in Bellshill.
Kevin McDermott makes his return to the stage later in the town's cultural centre, as part of a four peice for the first time in years, and they even managed to squeeze in a rehersal.
"I'm very much looking forward to it", the singer/songwriter told STV Bellshill
"It's back to very, very familiar tuff which is four guys making a racket on a stage and if the technology employed by a lot of folk isn't there, then that's just the way that it goes. It's just hell for leather.
"I'm really looking forward to it because there's a whole bunch of songs that in any incarnation of any band I've played in that I've never played before."
With more than six albums in his back catalogue, there is no end to suggestions and permutations of possible set lists. But it seems that nailing down the final list is proving to be quite a surprising challenge for Kevin.
He said: "When I write down all the material I have, there's quite a lot of it and I'd go as far as to say that some of it's quite good. I'm able to pick and choose and put together a set. The components are some favourites, some old and some never played, some really almost new to me because they've stayed on disc and haven't really been visited very often. I'm really pleased to give them an airing."
The Glasgow born singer made his name during the 1980s with the the Kevin McDermott Orchestra. During one gig, nine others were on stage making a racket alongside Kevin, and the performance in North Lanarkshire will also feature some well known Scottish talent, with Kevin saying it feels like performing with a new band:
"I'm fortunate enough that from my earlier exploits from the studio and on stage, I've got my brother Jim, Stuart McLeod who's great and for those who'll remember Aztec Camera we have Campbell Owens on bass, which was a delight and a pleasure, and also I'm a big fan. I'm really happy with the people I'll be sharing a stage with.
"I really don't have a problem with the size of the venue. I'll do the same whther its Wembley or the Barrowlands or Bellshill Cultural Centre. I can't help myself, its in the DNA, I'm straight through with it – a leopard can't change it's spots. Stuart, my guitar player, pointed out it might be uncomfortable for folk sitting near the front."
With a warning to the ears in place and two years since an album was released or performance, can we expect to continue to see KMO live?
"I don't really want to put the cart before the horse," Kevin said.
"I'd like to do more for sure. but there might be a massive brawl on stage and we'll all fall out or you can't have the last malteaser or whatever it happens to be, but I'm hopeful to be able to go on and have an enjoyable experience and repeat that several times.
"My motto 'is no sweat, no strain, no unpleasant bending' and if I can continue that and move it forward into other venues, then so much the better."
Kevin McDermott and The Section play the Bellshill Cultural Centre on Friday 27th August, supported by Toy Tin Soldier.
Doors open 7pm, tickets priced £12.