There's no place like home for author J. David Simons
Author J.David Simons talks about his novels and his reasons for returning to his home city.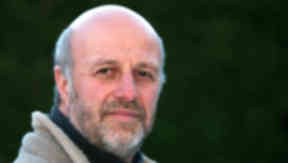 After travelling to Israel to live on a kibbutz, moving to Australia and then Japan and working as a charity administrator, cotton farmer, language teacher and university lecturer, J. David Simons decided that it was time to return home to Glasgow and pursue his writing passion.
"I think I always wanted to write. But I'm one of those writers who felt that they didn't have anything to say until they were about 40," he said.
The King's Park native returned to his home city from Australia in 2006 with his partner Sofia.
He added: "I have a lot of admiration for young writers. Writers who can write about what is happening now for them as they are growing up.
"Me I always felt that I had to wait."
And when the inspiration struck David felt that he had to move back to Glasgow to try and get published.
"To have a Scottish novel based in Glasgow and to try and get it published in Australia I think was a difficult task.
"So the idea was that my partner and I would return to Scotland and I would try to get my book published here.
"And also, I still have family in Scotland, my mother lives here and I have brothers who live here so I think it would have been churlish to come back to Britain and not be in Glasgow."
The 58-year-old achieved his goal and his first novel, The Credit Draper, was published in 2008.
Taking inspiration from his Jewish roots, David's novel is about an 11-year-old boy, Avram Escovitz, who in 1911 was shipped off by his mother to Scotland to escape conscription into the Russian army.
He is brought up by the Kahn family in the tightly-knit Jewish community in the Glasgow Gorbals where he discovers he has a natural talent for playing football.
He dreams of playing for Celtic but the First World War breaks out and Avram is sent to work with his adopted uncle, the orthodox Jew Mendel Cohen, as a credit draper, peddling goods on credit to the crofters and villagers of the Western Highlands.
"I suppose I started with what I know which is that I was brought up within the Jewish community in Glasgow," said David.
"The inspiration for The Credit Draper came as an uncle of mine was a credit draper in the Highlands.
"I always thought that they worked only in Glasgow or in the city.
"But when I discovered that this uncle had gone into the Highlands and the idea of the two communities, this Jewish community with the Jewish immigrant from Eastern Europe who was quite odd looking perhaps and not speaking the language, suddenly meeting up with crofters in the Highlands and their ways, was fascinating for me.
"That was the crux of the story with these two cultures coming together.
"Funnily enough I didn't find that much conflict between the two cultures, there is quite a lot in common between Scotland and the Jewish cultures.
"I think there's a thirst for social justice and education and a thirst for whisky and schnapps or brandy and they both like betting and violin music so I had to make up an awful lot of conflict in the book that maybe didn't exist."
David also took inspiration for his second novel, The Liberation of Celia Kahn, from something close to home.
"There's not been many novels written around Red Clydeside," he said.
"There's a lot of non-fiction but there is very little written about the rent strikes, the court cases and about the demonstrations.
"There is a character in The Credit Draper, the adopted sister of Avram called Celia Khan.
"She was an interesting character and she was very politically involved at the time even though she was quite young.
"My publisher asked me so what happened to Cecilia?"
The book is set in the middle of the First World War and follows Celia and her involvement in the Rent Strikes, birth control and feminism.
David said: "It's funny because when I usually thought about feminism I tended to think about the 60s but actually there were amazing things that were going on in the 1920s in the women's movement and it wasn't just about women getting the vote.
"It was just about women trying to take more control over their lives and that's what this story is about."
Now David has taken on the task of writing a third novel as part of a loose trilogy.
It is provisionally called The Land Agent and is set in Palestine in the 1920s.
David said: "It's about a piece of land that doesn't appear on any map so all of the interested parties at that time – the Arabs, the Jews, the French, the British, all have their own interests in trying to get a hold of this piece of land."
But David says that he is finding it difficult to write the novel, which is due out in 2014.
"Up until now I haven't suffered from writer's block but I think I might be going through one right at the moment," he says.
"I thought that I didn't know what that meant but I think I'm beginning to understand what it is now.
"I think there is a sense that it somehow appears from outside like it's some kind of objective thing that planks itself in front of you like a big block but I think it's a reflection that you probably haven't got it quite right."
And David says that once he overcomes his struggle he would like to take a break and write short stories.
"A novel is two years, it's almost like doing a PhD and it's juggling an awful lot.
"I think you can be more playful with short stories and it just doesn't take so much time and it feels lighter. I'm sure some people would disagree and say that writing short stories is much harder.
"As far as writing I hope that I am going to keep writing until I draw my last breath I think. All my friends are starting to retire now but I can't imagine retiring.
"It's about giving yourself some kind of fulfilment. I don't want to play golf. It gives meaning to my life and if I stopped doing it I don't know where I would find meaning."
As well as The Credit Draper, Celia Kahn and the upcoming The Land Agent, David has a Japanese novel coming out based in 1950.
For more information on all of David's books, visit his website.