From Holyrood to George Square - the return of Frank McAveety
After losing his parliamentary seat in May 2011, McAveety has made a return to the political front line after election to the council.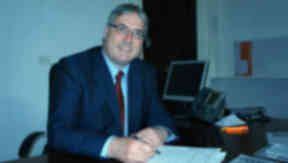 With bare walls, an empty desk and a spotless thick carpet, the space gives off the feel of a first day back at school after the summer holidays.
Returning to Glasgow City Council - the place where it all began 24 years ago for the former English teacher – he's just been through a week of induction and is setting up home in his new office.
Twelve months after the shock loss of his Scottish parliamentary seat in the east end of Glasgow, Frank McAveety is once again representing the people of Shettleston.
Some might say he is a glutton for punishment.
But he's not the only one who couldn't keep away – at least two other former MSPs who were defeated last year won council seats on May 3.
He last entered the city chambers as a councillor 13 years ago, and there have been many changes in the administration of local government since then.
Yet there is an air of excitement around McAveety. A passion.
"I came in here as a young councillor for the first time way back in 1988," he said, "You were handed the green handbook and told to sit at a certain desk and one of the older councillors would take you round.
"That was it.
"Now we've got laptops and blackberries," he laughs, "So it's a markedly different model of support for members compared to what was there two decades ago."
An enhanced induction process isn't the only thing that's changed. Back in 1999 when he was leader of the council, Labour was the only show in town in Scotland's largest city.
Now, there are over 30 opposition councillors in the city chambers – and last year, seven SNP MSPs were returned to the parliament, one of whom, John Mason, won Frank's Shettleston seat.
"Last year for those of us who lost the Glasgow areas after having represented them for 12 years, it was a big blow," he says.
"Because the momentum was such that whilst you could never be complacent about your seat, there was a sense that if you put the work in you that you would be able to hold it.
"The national swing in some of the constituencies was so ferocious that it took out some very experienced colleagues.
"Some people have found other things to do. Some took the time out. I took the time out to reflect and see what it's like on the other side.
"And I think that's the corrective for me, it helped me in the campaign."
For the last year, McAveety has worked as a consultant helping to get young people into jobs and then for sports outfit Sidekix as an education coordinator.
He says the experiences more than prepared him for the slog of the Labour doorstep campaign – where candidates were ordered by party chiefs to chap hundreds of doors and meet constituents every week.
"Whenever a parent would say to me, 'I'm very concerned about the chances for my 16 and 17 year old', given that I'd been working with 16 and 17 year olds I know how tough it is out there for them.
"These are youngsters that want to work but we're not creating the economy that allows them to work.
"To me it's almost sinful that we don't give people the chance to maximise their potential to work.
"If anything our society should create the space to find young people who have left school things to do.
"We don't want to lose a generation which we lost in the mid 80s during the most severe depression."
It was partly the experience of growing up in the 1980s that inspired his interest in politics before he joined the student Labour club while he was an arts undergraduate at Strathclyde University.
"Living in Glasgow, I was 17 when Thatcher was elected," he says.
"There's a lesson, when you see the nature of her economic and social policy.
"I remember looking round at the right to work march in Glasgow and then I was involved in the east end miners support group.
"These are all political learning experiences that make you identify more strongly with a political party and also because you have the sense of egalitarianism."
The son of a Springburn window cleaner, Frank says it was the values instilled in him by his parents that also helped to lead him along the political route whilst he was starting out as a secondary school teacher in Glasgow's schools.
"It's a great privilege to have been a city councillor before and a parliamentarian and to have served in the Scottish Government.
"These are fantastic things to have done on a personal level. But there's no point in doing them unless you are trying to shift things for ordinary people.
"The lesson I've learned from the family I've come from is that if you ever are in a position of influence, even if you just edge things in favour of ordinary people, then that's an achievement."
Despite numerous boundary changes, McAveety represented the east end of the city for 23 years, first as a councillor, then as an MSP.
As an MSP, he was a government minister on three occasions, so surely it might seem like a bit of a step down to return to local politics after the prestige of ministerial positions?
"With local government and Scottish Parliament you've got two very different roles," he says.
"I don't think one is any more important than the other. I think the role of being an effective local councillor and delivering services that are effective and make a difference to the citizens of Glasgow is a noble role.
"I've got a lot of commitment. I was brought up to believe you should put something back."
"The local Labour party wanted a strong group of candidates to stand. On assessment they certainly believe I still have a lot to offer.
"I think I do too."