The Swedish designer who is seamlessly stitching up a storm
"I could have gone anywhere I wanted in the world – I don't know why I decided on Scotland. I think Ewan McGregor lured me here."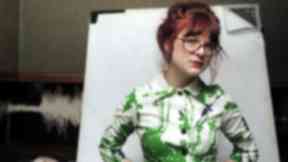 "I love seeing people succeed and believe in themselves. You can see how it changes them."
In the attic room of an Albert Drive studio, keen sewing students are frantically threading, stitching and hemming under the watchful eye of designer Jennie Lööf.
The 31-year-old designer has combined her passion for fashion and her love of teaching to create sewing masterclasses, which instruct visitors in everything from dress-making to pattern drafting to how to thread a needle.
The small sewing classes, which are tailored to suit each student, have proved so popular that eager stitchers are coming from far and wide to get involved.
"I'm absolutely overwhelmed at the response I've had," said Jennie.
"I've only advertised on free internet places – it's mostly word of mouth, and a couple of flyers in cafes.
"I though it would be a local class for local people, but I have students that come from far away. One girl lived in Singapore and she was just here for a month and came to my classes."
Jennie has come a long way - physically and metaphorically - since her career in fashion began.
Growing up in the little town of Sundsvall in North East Sweden, Jennie sparked her interest in design while drawing extravagant outfits on the floor of her grandmother's living room.
From there, the budding fashionista won a scholarship from the Swedish government allowing her to visit any country in the world to pursue her dream.
"I could have gone anywhere I wanted in the world – I don't know why I decided on Scotland," said Jennie.
"I think Ewan Mcgregor lured me here."
Jennie began an internship in the wardrobe department at the Tron theatre eight years ago, and from there her career has flourished in her adopted home of Glasgow.
She now owns her own fashion business, runs sewing classes and is a freelance theatre wardrobe supervisor.
Working out of her Albert Drive studio, Jennie has created several collections under the label Jennie Lööf Clothes (her surname makes it sound like Jennie Loves Clothes if pronounced correctly) and has also featured at various local fashion shows and events.
"Two years ago I moved out from working in my kitchen, got a studio and started taking everything more seriously," said Jennie.
"I don't know how it happened, but I just got loads of attention and people wanting me to be a part of their fashion shows."
Many of Jennie's items are unique, one-off pieces created by giving new life to vintage fabrics.
She is currently working on an accessory line – Spatzera – which will create accessories for men and women.
On top of all of that, Jennie is pursuing her love of teaching by hosting all-day sewing master classes and five week sewing workshops from her studio.
Jennie first caught the teaching bug when she was offered a resident artist position at Louden Academy two years ago.
"It was terrifying at first but absolutely lovely," she said.
"I realized how much I loved being around people, because being a designer and wardrobe supervisor is one of the loneliest jobs ever. You never see any one else.
"It's good to be around people who are keen and really want to learn."
After a short spell at Louden, Jennie went on to teach sewing classes to disadvantaged young people in the city's East End as part of Impact Art summer project Gallery 37.
When funding ran out for the project, Jennie refused to give up and took her sewing expertise to Govan, where she taught classes to homeless and unemployed people.
"Having something to do like sewing really builds confidence," said Jennie of her students in Govan.
"It manages to get people out of bed to go and do something, and to feel better about themselves."
Normally used to teaching classes of between 20 and 30 students, Jennie is now happy that her intimate sewing classes contain only four of five.
She can now devote the proper amount of care and attention to each student, while ensuring they are getting the most out of her classes.
Jennie quizzes potential students on their skills, aims and ambitions for the class so that she can nip and tweak the course to make it perfect for them.
Regardless of a student's sewing experience, everyone in Jennie's class starts off on a level playing field with instruction on how to handle and thread the machine.
The students each make themselves a tote bag in the full-day workshop, as well as anything else they may manage to create in their 'free choice time' in the remainder of the day.
Keeping on top of supervising the Tron's wardrobe for theatre performances, designing new clothes and teaching has left Jennie rushed off her feet, but she wouldn't swap what she's doing for the world.
"It's going so well – touch wood – and I absolutely love it.
"I'd like to triplicate myself because I want to do everything at once.
"I love seeing people when they understand it and their proud faces when they've made something, when they can't believe they did it themselves."
Jennie will hold one of her Sunday sewing master classes on August, 19 at Albert Drive Studios.
To book a class or put your name on the waiting list, email Jennie or visit her website for more information.