Oran Mor kickboxing fight sees Scot become world champion
Scotland's first female professional MMA fighter won the title of ISKA world champion at the Oran Mor VII event.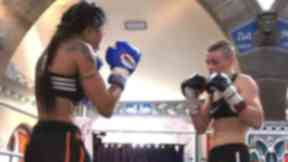 Mixed martial artist Joanne 'Jo Jo' Calderwood has been crowned ISKA world champion after defeating Swedish no.1 Jenny Krigsman.
The International Sport Kickboxing Association title fight, held at the Oran Mor on Sunday 2 September, saw Calderwood defeat Krigsman within fifteen minutes.
The fight was stopped before the fifth round, when a doctor was forced to intervene and attend to Krigsman's injuries.
This is the latest in a series of victories for 26-year-old Joanne, who already holds the title of IKF Flyweight Champion and is ranked number 2 in the world by the World Professional Muay Thai Federation. She is also European flyweight champion the World Kickboxing League and World Boxing Council UK flyweight champion.
Joanne is part of the Dinky Ninja Fight Team that train at Griphouse Gym and is also associated with Caledonian Muay Thai.
"It's absolutely phenomenal that Joanne won– we're over the moon," said one of Joanne's coaches, Guy Ramsay.
"For single-mindedness, focus and dedication she tops the bill. We knew she would do well but we also knew Jenny was really good.
"The teams in the other changing room were worried on our behalf when they saw Jenny warming up, but that's the whole point of a world title.
"You don't want to be fighting someone that's not number one or two in their home country."
Joanne will take on No.1 MMA strawweight fighter Ashley Cummins on October, 6 in Kansas City, USA.
To keep up with Joanne's progress, follow her on Twitter here

To find out more about MMA in Glasgow, visit The Griphouse website