Sweet tastes in the city as patisserie opens two Glasgow cafes
The firm will be bringing 40 jobs to Glasgow when it opens branches at Glasgow Central station and West Nile Street.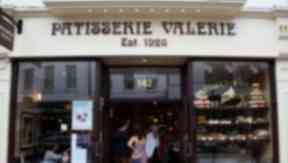 Artisan baker and café chain Patisserie Valerie is set to open two new branches in Glasgow.
The London-based firm will set up its first eateries in the west at Glasgow Central rail station and on West Nile Street later this summer.
The former Franco's in the station will be transformed into a 38-cover Patisserie Valerie and is earmarked to open in the next four weeks.
A hairdressers on West Nile Street will be dramatically adapted into an 80-seater café which will be launched later in the year.
Until now the company's only presence in Scotland was in Edinburgh, with a third outlet opening at 25 George IV Bridge at the end of May.
Paul May, chief executive officer at Patisserie Valerie explained: "We opened two sites in Edinburgh a year ago and we just opened our third site in the capital which has been extremely successful.
"Glasgow seemed to be the next step. I've been trying to find a site in the city for over 12 months, Glasgow has been at the top of our list for some time and it's just the way things have worked out that we'll be opening two here this year.
"We've got a good relationship with Network Rail now as we've nine sites with them across the country, so we took up this opportunity to open in Central Station and in the meantime have been negotiating for a high street location."
Renowned for its high quality cakes and pastries, the first Patisserie Valerie opened in Soho in 1926.
There are currently 107 branches of the company across the UK with a further 25 set to be in operation by the end of the year.
As well as specialising in occasion and celebration cake services, the organisation is popular for its continental breakfasts, lunches, teas and coffees.
The two new Glasgow branches will employ around 40 people, with 30 in West Nile Street and nine in Central Station.
Paul added: "If you generally look around there's nobody that provides what we do. We sell celebration cakes and slices which the customer can take a seat and enjoy – we always call it an affordable treat.
"We fit in quite nicely with what's already out there in Glasgow because we are not a coffee shop and we are not a restaurant.
"You can come in quickly and grab a speedy lunch or can sit and chill, our window displays will draw people in.
"Our business is a bit different because people can come to us and they'll just spend £5 or £6 and they can stay as long as they like. We understand that people don't have the disposable income that they used to and I think that's why we're able to expand in these tough times."
For more information go to Patisserie Valerie's website.