Police crackdown on drugs and drivers during South Lanarkshire wide operation
Cocaine seized, drivers stopped and licensed premises caught selling alcohol to underage children during 17-hour police operation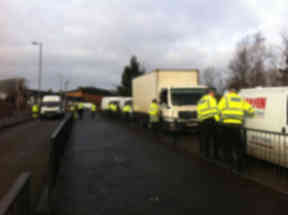 Drug dealers, dodgy drivers, benefits cheats and rogue shopkeepers have all been targeted in a police 'day of action' in South Lanarkshire.
A series of co-ordinated raids across the county over the course of 17 hours followed months of planning and involving scores of officers is being hailed as a major success by local police chiefs and partner agencies.
Among the key successes were:
Cocaine worth an estimated street value of £125,000 found at a house on Raeburn Crescent, Hamilton.

Enquiries are still ongoing after £15,000 of cocaine seized from a property in Hamilton.

Eight licensed premises caught selling alcohol to underage children.

Nine people found to be working while claiming benefits.

138 vehicles stopped and 153 people checked on Muir Street in Hamilton and at the old Focus car-park at the Whistleberry Industrial Estate, Hamilton.

Eight drivers were issued with immediate prohibitions for violating safety checks.

One van was seized and its driver slapped with a £516 on the spot fine after the vehicle was found to be using red diesel

Three people were reported for speeding and 12 for using their mobile phones while driving
Friday's operation saw police across the county targeting individuals involved in violent behaviour and anti-social behaviour.
A 22-year-old man was reported to the Procurator Fiscal for the possession of herbal cannabis in Hamilton town centre.
Also in Hamilton, a 38-year-old man was reported for the possession of cannabis and a 27-year-old woman reported for resisting arrest during the clampdown.
South Lanarkshire's divisional commander Chief Superintendent Alan Gall said: "This operation was a highly successful day of co-ordinated activity across South Lanarkshire, which was supported by resources drawn from specialist policing departments within the force.
"The focus of attention remained local concerns and we were able to target resources in an effort to provide enhanced public reassurance, working together to make our community safer.
"I am delighted with the results achieved, particularly those related to high level priorities such as alcohol fuelled violence, antisocial behaviour, gang violence, domestic abuse and robbery, which are continually at the forefront of policing in South Lanarkshire through pro-active, preventative and partnership working.
"I would like to make particular mention of our local authority partners who continue to provide an outstanding level of support within the policing of our local communities."
During the day of action South Lanarkshire Council representatives from Trading Standards and Environmental Health, officers from the Scottish Environmental Protection Agency (SEPA), HM Revenue and Customs (HMRC) and Vehicle Operator Services Agency (VOSA) worked in partnership with the police.
Officers from Trading Standards are now looking into one potential investigation and 60 follow-up enquiries for the inappropriate use of trade association advertisements.
Legislation and procedures were checked at six car washes in the area with one car wash closed down in Hamilton for the reported theft of electricity
Offsales in Rutherglen, Cambuslang and Rutherglen all failed test purchase operations during Friday's day of action.
Six fines were also issued on the day for breach of the peace, urination and street drinking in Hamilton's town centre.
Strathclyde Police's mounted branch were out in force in Stonehouse, Larkhall, Hillhouse and Uddingston, issuing fixed penalty notices to two individuals found not wearing seatbelts and one person found using a mobile phone while driving.
In a bid to provide public reassurance there were high visibility patrols throughout the day and a police trailer was positioned in Hamilton town centre.
PC Marie Lambert was handing out leaflets on the day.
She said: "It's all about encouraging people to report any crimes to the police. If they don't feel comfortable they can contact Crimestoppers anonymously that's the message we aim to get across.
"By having the van in the town centre it's a less formal way for people to get in touch with their local police and ask for any advice."
Anyone with information on criminal activity within their area can speak to their local community policing team or alternatively contact can be made with Crimestoppers free on 0800 555111.