More than a Game as football exhibition kicks off at Kelvingrove
A football from 1540, the world's oldest football medal and characters including Sir Alex Ferguson and Jock Stein in focus at new exhibition celebrating the sport.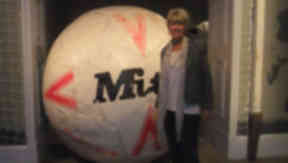 When we consider Scottish football we think of the Old Firm, the SPL and the national team.
But a new exhibition at the Kelvingrove Art Gallery and Museum explains how figures like Mary Queen of Scots and the Royal Scots Fusiliers shaped the sport in Scotland.
Opening on March 27, More than a Game looks at Scotland's relationship with football and the skills of the modern day footballer.
Visitors will be able to catch a glimpse of the world's oldest football as well as the oldest trophy in the world, the 1888 Durand Cup medal won in India by the Royal Scots Fusiliers.
The oldest football is thought to date back to 1540 and was once the property of Mary Queen of Scots. The 16th century Stirling football is made from a pig's bladder with a hand-stitched leather case on the outside.
The collection, which has been curated in collaboration with the Scottish Football Museum, also puts the spotlight on individuals like Rose Reilly Peralta, the only Scottish player to have lifted the World Cup, and Andrew Watson the world's first black footballer to play at international level.
Rose, whose Italian football strip is on display at the exhibition, said: "Football in Scotland started centuries ago. We were one of the pioneering nations in football, so you have to respect that tradition.
"It's fantastic that women's football is recognised here. If women play football they should be part of a football museum.
"My favourite part was seeing the wee old turnstiles. I remember getting a lift over them and I never paid when I was younger. It's bringing back lots of memories for me like when I was at an international game at Hampden Park with my father.
"There must have been about 130,000 fans at the game, we were all cramped together and I was shoved to the front. I always remember the noise and the smell of whisky.
"Internationally, Rangers and Celtic are the teams people know so maybe this will give people a wider picture of Scottish football. It's quite a proud moment knowing that visitors will see my strip here at Kelvingrove."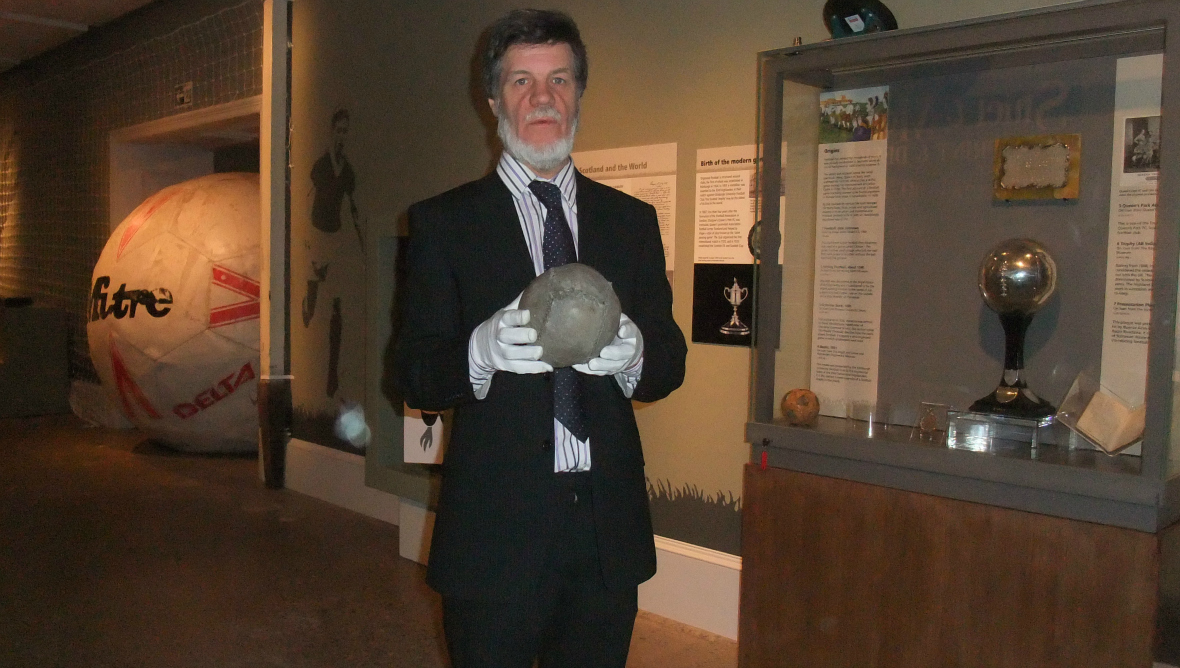 The oldest football dating back to 1540.
Other exhibits at More than a Game include the last surviving crush barrier designed by renowned architect Archibald Leitch, a tanner ba' and one of the largest footballs in the world.
Football fans also have the opportunity to reminisce on some of the great games, with screenings of the 1956 Scotland v Spain match and the legendary 1960 Real Madrid v Eintracht Frankfurt match.
The exhibition draws on items from Hampden Park's Scottish Football Museum.
The Scottish Football Museum's curator, Richard McBrearty, said: "We didn't want to make it something that was similar to what's on at Hampden Park, we wanted to do something much bigger.
"We've got every aspect of football. Going back to the making of a traditional football, a good skilled worker could make 20 balls a week. It's important people remember things like that. We bring it up to date as well, we've got the ball signed by the French women's team.
"We also have the original Hampden goal posts which were on the pitch during the 1976 European Cup Final. Every year at least one group come on a pilgrimage from Saint Etienne in France because they believe the square designs of the posts cost them the European Cup Final. We never had the height to put them on display before.
"It also gives us the opportunity to showcase women's football, which for a long time was a story that's never been told.
"It's a very fun and interactive exhibition."
A number of football related ticket offers available at the exhibition, with buy four get one free entry deals for five-a-sides or buy nine get two free entries for 11-a-side groups.
Councillor Archie Graham, the chair of Glasgow Life, hopes the story of Association Football in Scotland will appeal to a wider audience.
He said: "There are a number of exhibits that we can show here at Kelvingrove that we normally wouldn't show at Hampden Park because of the size of the museum. Things like dug-outs that some people might have heard about but won't have seen.
"What we'll have here is for the regular visitors to Kelvingrove, the people who come on a regular basis, who, once they discover the Scottish Football exhibition is here will hopefully come in and see the exhibition. But we'll also have over and above that people who come in specifically to see the football exhibition.
"It's just wonderful and it's a celebration of football in general but also of many of the characters that Scottish football has produced over the years.
"Matt Busby, Alex Ferguson, Jock Stein, Bill Shankly, household names from down through the years, we can hear all about them and about the clubs that they played for and managed.
"I actually particularly like the interview with Sir Alex Ferguson which is from when he was put into the Scottish Football Hall of Fame, and he came up and spoke about his experiences as a player, then up through management then as manager of Manchester United.
"He's a Govan boy to boot, so we in Glasgow are very proud of him and for me that's my favourite part of the exhibition."
Entry to the exhibition is £5 for adults and £3 for concessions. Tickets are available to buy from the Kelvingrove Shop, online at www.glasgowmuseums.com or by calling 0141 353 8000.