Roller derby is on the rise with Glasgow girls on track for US trip
Behind the scenes video of Glasgow Roller Derby in training for the Brighton Rockers Roller Derby match and Pennsylvania's East Coast Derby Extravaganza.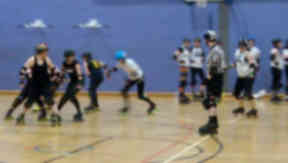 Clad in gumshields, knee pads and helmets they huddle together in their roller skates ready for that starting sound.
The referee barely has time to put down her whistle and they are off, whizzing around the track, blocking, nudging and jostling for the lead.
The matching shirts create a team dynamic but each player manages to keep their own identity through colourful socks, plaited hair, tattooed arms and even panda and skeleton style shorts.
Members of the Glasgow Roller Derby are in training.
Some for this weekend's encounter against the Brighton Rockers, others for up and coming intra-league tournaments. The top flight are preparing for their very first year competing at the East Coast Derby Extravaganza in Pennsylvania.
With a rebrand, international outing and a slot at the Glasgow Science Centre's Body Works exhibition among the achievements in 2013 so far, Scotland's first flat track roller derby league is gaining momentum and becoming more popular than ever before.
Caley Kapowski started playing roller derby in September 2011.
She said: "When I started I didn't really know of any groups other than in Glasgow and Edinburgh, but there's one in Shetland and in Livingston, they're popping up everywhere which is really exciting.
"It's more people to play and it's more people to enjoy derby and not ask you where the ball is because people understand - there is no ball. I think it's definitely becoming more and more popular just now.
"It's really fun to watch, there's lots of tactics and things so if you come more than once you'll understand why someone's running backwards, everybody there is so friendly.
"You've got people like my dad who has come to match and he'd never been to roller derby before, but there were people explaining the rules to him. Roller derby makes everyone feel involved plus there's cake at the games."
Since emerging as the Glasgow Roller Girls - a small group formed through Myspace in March 2007, the club has grown to around 100 members, ranging from beginners to top travel team the Irn Bruisers. It was recently renamed as the Glasgow Roller Derby to reflect the diversity of the organisation's ambitions.
Roller derby is a sport which rose from the burgeoning popularity of roller skating in 1920s America and evolved into a contact sport in the 1930s.
The sport saw itself at the centre of a revival in the 2000s with leagues forming in Australia, New Zealand, Canada and the UK.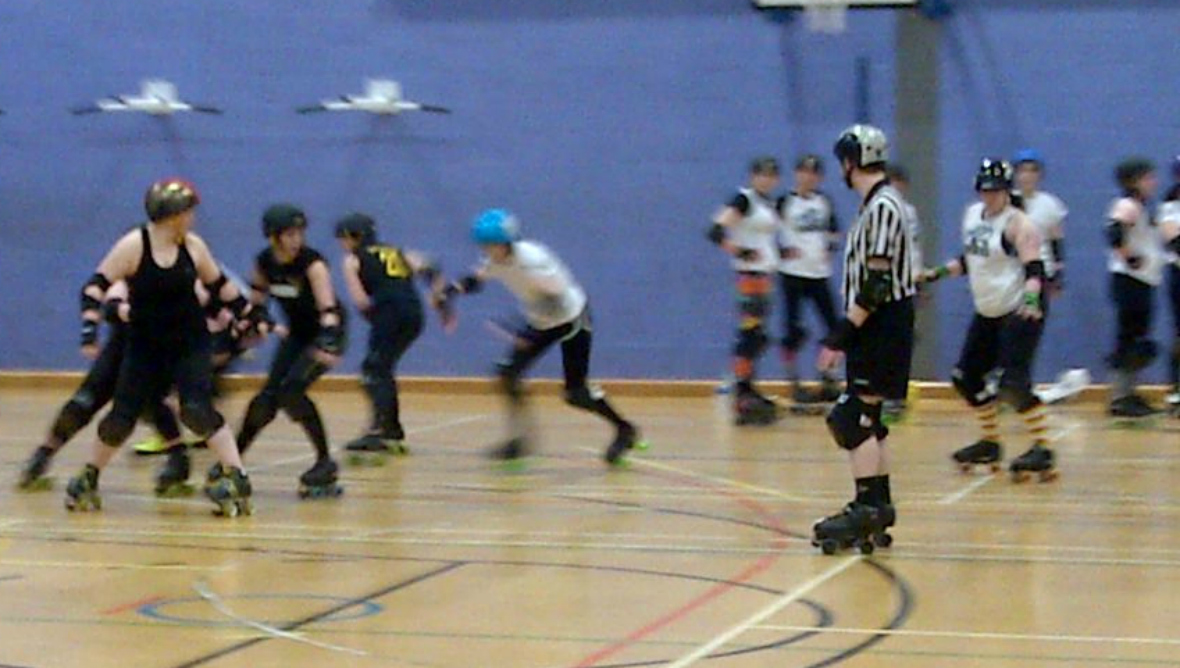 Rogue Runner, is the captain of the main travel team, she became hooked on the sport three years ago.
She explained: "I used to run a lot, I'd run some marathons but I wanted to play a team sport, something a bit less lonely. I heard about roller derby and it sounded just really fun. I couldn't roller skate so I learnt to roller skate through this club and now I can play which is great.
"We're going to America this year to play so that's quite exciting. Some people last year went over to Canada to play in the first Roller Derby World Cup but this is the first time as a club we've gone to America to play any of those teams. Obviously it's a much bigger thing over there, so it's quite a big thing for our club to get invited."
She added: "The big thing about roller derby is that anyone can play, if you're small and fast there's a lot you can do, and if you're big and strong that's an advantage too. It does require a lot of athleticism, and because every club is run by the skaters, you need to have a lot of commitment and quite a lot of time to give it.
"It's a really exciting sport to watch, very fast paced and very entertaining, you become hooked on it quite quickly, if you've never seen it before it's definitely unique."
The game involves five players forming a team, taking on the roles of jammer, pivot and blockers. When the whistle sounds, the jammer has to try and make it through the pack fighting off the blockers.
The first person through the pack without committing any penalties is the lead jammer. Every time a jammer makes her way through the pack and laps members of the opposing team during a jam, they can score points.
The teams rely on a group of referees and non-skating officials to make sure the game follows the rules.
Everyone involved in the club, which trains at Glasgow Caledonian University's Arc Sports Centre, is a volunteer.
Candy Moho is head referee. She joined after playing for the Granite City Roller Girls in Aberdeen.
She explained: "Being a skating official is just as demanding because we need to be just as fast, we need to take hits.
"We're not expecting to get hit but occasionally skaters will come right into us. I've been taken out by a skater coming off the track and then I've ended up in the crowd. You just need to be able to react to it.
"I've been involved in lots of different sports at lots of different levels, Tae Kwon Do, rowing, squash, badminton, I really enjoy being involved in sports but the thing I really like about derby is that it's available to everyone, it doesn't matter how fit you are.
"When I first started playing it I really knew everyone that was involved in derby, and there were a handful of teams in Scotland. At that point there were teams in just Glasgow, Edinburgh and Aberdeen, and now there's 80 plus clubs in the UK and there's something like 14 in Scotland plus men's teams.
"The games changed a lot over that time and that's another reason I like being involved, I've never been involved in a sport while it's growing and developing and that's one of the big appeals. It's such a do it yourself sport you get out of it what you put in, it's very rewarding."
The Glasgow Roller Derby play the Brighton Rockers Roller Derby at the Arc from 12.30pm.
For more information go to the Glasgow Roller Derby website.
Video by Ian Hendry.