TNA wrestling date at The Hydro to be broadcast live to the world
President of the company Dixie Carter has announced the Glasgow show will be broadcast live to US and UK audiences.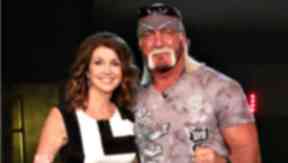 Between the Commonwealth Games and the independence referendum, 2014 is shaping up to be significant for Scotland.
Now there's another date to add to the landmark year.
TNA Impact Wrestling has announced that its first ever wrestling show at The Hydro will be broadcast live on television to the rest of the world.
The Maximum Impact VI Tour date in Glasgow on January 30 2014, will be the first time TNA has broadcast live out of the USA.
Wrestling superstars Hulk Hogan, Sting, Jeff Hardy, Kurt Angle and AJ Styles are expected to bout at Scotland's newest venue for the date next year.
Dixie Carter,the president of Total Nonstop Action (TNA) Wrestling, was in STV's Glasgow studios to make the announcement.
She explained: "It's historical for a number of reasons. One, it's the first time that we've ever broadcast live out of the United States - outside the country and it's the first time in this big beautiful building that you see behind me that we're really excited for.
"But also Challenge TV will be broadcasting the show live from Scotland and that will be the first time they've not been delayed for several days. It will be the first time that everyone in the UK will get to see Impact wrestling live.
"The people in Scotland are just lovely, they're the nicest people in the world but they're also rowdy which we love. It's a great combination for us, so they're very, very gracious to us when we're here."
TNA Impact Wrestling is broadcast on Sunday nights at 9pm on Challenge in the UK and Ireland and on Spike TV in the USA.
The Nashville based organisation launched the search to find a UK wrestler to add to its professional roster with four part reality show British Boot Camp.
Dixie says she's now on the hunt to find a Scottish face to join her squad.
She said: "We're actually looking at a few Scottish wrestlers. We've have been talking about a season two and we've got to have a Scottish wrestler on that.
"Hopefully he or she will make it to our roster. We're constantly hearing about great independent wrestlers that are out here, one in particular Lionheart has been on our show before."
TNA Impact Wrestling has gone from strength to strength over the last decade expanding from a pay per view company in 2002 to a show that's now screened in 120 countries around the world in 17 different languages.
Last year the company produced 500 hours of original programming and has now taken its show from the Universal Studios onto the road for the 2014 worldwide live broadcast in Glasgow.
But Dixie says she's disappointed that the growing interest in all types of wrestling has not been recognised by the Olympics.
The International Olympic Committee recommended that wrestling should be dropped from the 2020 Olympic Games with a final decision to be made in September.
Dixie said: "At Impact Wrestling we have the only Olympic gold medallist in Kurt Angle and when we heard the recent news that the Olympics had planned to drop wrestling, which is one of the original sports and is achieving more worldwide popularity today then ever in high schools and universities, we were very disappointed.
"So Kurt and I have bound together and we're working with the Olympic wrestling groups to try and get them to reverse their decision in September.
"I don't know why they've made a decision like this, if I had to guess there's some kind of politics involved, or something else that's going on.
"The Olympics were built on wrestling, it's more popular today than ever, it has a form of entertainment professional wrestling that is globally successful with millions of fans so it's hard to imagine that they won't make the right decision on this.
"The Commonwealth Games are coming in 2014 to Glasgow and the good news is that wrestling will be represented there so hopefully they will follow your cue for the worldwide Olympics."
For more information go to the TNA Impact Wrestling website. Tickets to Maximum Impact VI are priced between £22.50 and £99 and go on sale at 9am on Friday, May 3 from The Hydro website.
Video by Ian Hendry.