Waste Disposal and Recycling
Bin uplift times, details of special collections and other refuse and recycling services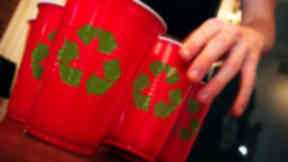 South Lanarkshire Council picks up rubbish from over 144,500 households a week, collecting general waste and recyclable waste on alternating weeks.
To ensure your household bin is collected fortnightly, residents should:
Only put waste that cannot be recycled in the bin. Residents are encouraged to use recycling services and food/garden waste collection services if available. More information on these services can be found below.
Close the bin lid.
Not leave anything at the side of the bin.
Not put hot ashes, rubbish or soil, corrosive materials or liquids (including paint) stones or large solid objects in the bin
Not store the bin on the pavement. Residents should remove the bin from the kerbside as soon as they can.
Collections for your blue recycling bin will alternate with your normal bin collection. Burgundy glass bins are uplifted fortnightly by a different truck on the same collection day as general household waste.
For information on what types of rubbish should be put in each bin, visit the Council's website.
For a waste collection calendar, visit South Lanarkshire Council's website.
Missed Collections
If none of the bins on your street were collected, residents are asked to leave their bins out, as unforeseen circumstances such as mechanical difficulties or staff illness may have caused a delay in services.
If your bin seems to be the only bin not emptied, contact Refuse Collections, grounds maintenance and street cleansing. It may be that your bin was too heavy or incorrectly positioned.
Refuse collection, grounds maintenance and street cleansing
18 Forrest Street Town
Blantyre
Hamilton
G72 0JP
Tel: 0303 123 1020
Email: landservices@southlanarkshire.gov.uk
For residents who are unable to put out their recycling or waste collections, assisted collections can be arranged. Fill out this online form, or contact Refuse collection, grounds maintenance and street cleansing on 0303 123 1020 or email landservices@southlanarkshire.gov.uk. Alternatively, pop into your local Q&A Office.
Special (Bulk) Uplifts
If you are disposing of old furniture or other household that can't fit in your bin, the Council offers a basic free collection service. Charges may apply for extremely large loads, such as house clearances. Visit the Council's website for further information on what items they will collect.
Clinical Waste
Items such as adult nappies, syringes, sanitary products, soiled dressings and bandage or any item soiled by blood or bodily fluids must for safety reasons be for incinerated for safety reasons. If you use syringes, your pharmist or surgery should be able to provide you with a special container for your needles. There are also needle exchange facilities at some chemists. If you have questions regarding the disposal of clinical waste, contact the NHS.
Hazardous Waste
For information on how to dispose of materials such as asbestos, gas bottles or chemicals, fill out an online waste enquiry form or contact Refuse collection, grounds maintenance and street cleansing on 0303 123 1020 or email landservices@southlanarkshire.gov.uk.
Recycling
There are recycling sites sprinkled through South Lanarkshire, usually operated by Land and Fleet Services. You can generally find them in supermarket car parks, linked to council buildings or located in civic amenity sites. The Council has created a guide to sites in your area, as well as a complete list of items that can be recycled.
Composting
Roughly 30% of rubbish produced at home can be composted. Composting is a sustainable and efficient way of dealing with organic waste and food scraps. You can dispose of garden waste and uncooked vegetable kitchen scraps in a home composter, which creates nutrient rich compost to use in your garden, or at a composting facility. The Council, in partnership with WRAP (Waste Resources Action Programme), is working to promote home composting. By ringing 0845 0760223, households in South Lanarkshire can purchase up to two compost bins at a reduced rate and get a free 5-litre kitchen caddie. There are four bins to choose from, ranging from £8, £10, £20 or £30 including delivery. Visit the WRAP website for more advice on home composting.
You can also contact Refuse collection, grounds maintenance and street cleansing on 0303 123 1020 or email landservices@southlanarkshire.gov.uk to organise for garden waste to be uplifted, or fill out an online form.
Littering and Fly-tipping
The most common forms of litter are cigarette ends, followed by sweet wrappers and matchsticks. It is illegal to drop litter, and wardens will issue anyone guilty of this offence with an on-the-spot £50 Fixed Penalty Notice. Failure to pay this fine within 14 days will result in the person being reported to the Procurator Fiscal and if convicted they could receive a fine of up to £2,500. The Council works with Keep Scotland Beautiful to keep the streets clean, and litter squads walk the streets seven days a week targeting main thoroughfares and town centres.
Fly tipping is the illegal dumping of any waste onto land, such as rubbish left or tipped into a site that is not licensed to accept waste. It is an offence under the Environmental Protection Act 1990. Offenders can issued a fine up £40,000 or receive 6 months imprisonment. Fines are unlimited if the case goes to the Crown Court and offenders can receive up to 2 years imprisonment (up to 5 years if hazardous waste is dumped).
To report fly-tippers, litter or dumping, fill out this online form. Alternatively, contact the Dumb Dumpers Stop Line on 0845 2304090 or report them through their website.
Commercial Waste and Recycling
Commercial waste produced in South Lanarkshire cannot be accepted at recycling centres and points. The Council no longer offers a commercial waste collection service, but there are private waste disposal companies that provide this service. Check the local directory in your area for listing of such companies. The Council can give you advice on waste transfer station locations and charges. Contact Refuse Collections, grounds maintenance and street cleansing.