There's a Storm coming - the rise of teen star Tallia
Elton John's favourite teenage pop star Tallia Storm is a 13-year-old force to be reckoned with, and she's ready to take on the world.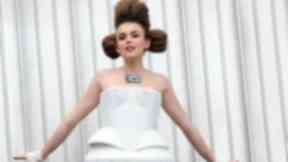 Tallia Storm doesn't look, sound or act like any ordinary 13-year-old girl.
While her Balfour High classmates sat at home watching X Factor with their grannies on Sunday night, Tallia performed one of her own songs to an audience of hundreds at the Scottish Hair and Beauty Awards.
Dressed up in a couture dress and skyscraper Chanel shoes, her hair scraped into three enormous bulbs, Tallia looked little like any 13-year-old I've ever come across.
Her unwavering confidence also belies her age. As the mini pop star launched into a performance of Vampire Night, a song written by her father Sascha Hartmann, the song skipped and Tallia was quick to click her fingers and ask that it be put back to the start in front of her bemused audience.
"I don't know what happened there," she said calmly after stepping off stage.
"It started in the middle of the song. I thought I could keep going and then I thought 'nah, I'm not doing this'."
Tallia's surreal teenage existence began on a Christmas holiday in Hawaii in 2011.
With Elton John's partner David Furnish sitting at a table just metres away from Tallia and her family at breakfast, the youngster seized her chance to pass a demo CD to the celebrity.
The next day, when passing through airport security with her parents and siblings, Tallia received a call on her mobile from Sir Elton.
"I'm one of four kids, so you can imagine trying to go through security and getting that call," said Tallia.
"The Spiderman trunkies were going everywhere, my Mum was trying to organise us all and at the same time I was on the phone to Sir Elton John."
Full of praise for the young star, Sir Elton was soon playing her music to his band and arranging for her to perform with him back in the UK.
"He said I had one of the best soul signatures that he'd heard in a long time, he was naming my tracks like he'd heard them a million times," she said.
"He played my music at a sound check in Honalulu football stadium and his band said I sounded like a 30-year-old black woman."
Listen to Vampire Night here:
Tallia was soon invited to support Sir Elton at an event in Falkirk. Since then, the precocious teen has gone on a worldwide charm offensive, keeping herself as busy as possible with a variety of side projects while promoting her music.
She has performed along side Disney stars in Los Angeles at the Teen Choice Awards and is also a fashion blogger for Huffington Post Teen.
Her video has been shown in 21 states in the US on local networks, and she is contacted regularly by magazines in Japan, Thailand and other far-fling destinations.
Having recently moved from Glasgow High to a local school in Killearn to fit in with her busy schedule, Tallia is adjusting to life as a rising Scottish star.
"I've got loads of exciting things happening at the moment," said Tallia.
"I'm going to New York soon to work with a producer – I can't say who it is at the moment but he's a bit of a legend.
"I'll also be doing a fashion diary during Milan fashion week."
Tallia has also recently begun writing her own lyrics and hopes to release an album in the near future. Jet-setting back and forth to the States and rubbing shoulders with musical superstars, it's no wonder that Tallia has the calm, professional attitude of someone twice her age.
"In future I just want to be doing what I love, singing on stage live – maybe get an album out, do more performances," she said.
"I want to make music that's soulful, but with a Tallia twist."