The Winter Tradition reveal all about celebrity fans Kasabian
Ahead of new dates in Glasgow and Edinburgh, Mark Morrow from the band discusses their unforgettable gig in Leicester.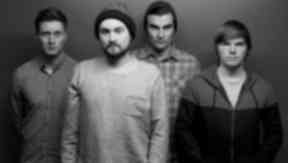 Playing a gig in a new city can be a nerve-wracking affair, especially when the singer from one of the biggest rock bands in the country is in the audience.
The Winter Tradition found out all about it when they performed at The Donkey in Leicester to members of Kasabian.
Having supported Enter Shikari, Idlewild and The Dykeenies in the past, it might not have been the band's first brush with rock's A-list, but guitarist Mark Morrow says it was one of of his most memorable gigs, especially when he climbed off the stage.
"We heard that Kasabian had come to see us but we thought it was a joke," explained Mark.
"It's insane to think that it actually happened and the singer, Tom Meighan, really liked us. Tom was chatting to us afterwards and gave us some good advice so hopefully we can make something of that.
"We were quite surprised that he'd heard about the band but it was a friend on Facebook who had posted about it. It's quite cool that he's still into discovering new music.
"We heard Kasabian were in the audience right before we went on stage, I tried to look for them to see if they were enjoying it but when you're up there it's hard to see anything.
"We play gigs up and down the country, sometimes it's just to 20 or 30 people but we always put the same effort in and try to take every show in the same way. But at the back of my mind it was quite a scary thought and we wanted Tom to like us."
After spending the last two months playing dates from as far afield as Cardiff, Land Inverness, the band are now preparing for a headline slot in Glasgow on June 21.
The boys will be supported by Reverieme, Alburn and Baltimore League at the gig in Stereo.
The Winter Tradition will then turn their attention to their biggest headline show yet at the Liquid Room as part of the Edinburgh Festival Fringe on August 23.
Mark said: "We've always found Glasgow quite tough because there's so much stuff going on all the time. There could be about 50 other gigs that you're competing against on any one night.
"For us Facebook has been a fantastic tool, we're always trying to look at ways of engaging and getting as many people to follow as possible.
"It's a great way to showcase your music. We played Cardiff for the first time a couple of weeks ago. We didn't know anyone there but all these other people started getting in touch with us and we ended up having a really good crowd."
Since first getting together as teenagers a decade ago, the band's name has changed several times as well as the face behind the drum kit, but Mark says the current line-up, which includes singer and bassist Ewan Simpson, guitarist Stephen Furbank and drummer Callum Mouat, is the strongest yet.
He said: "We don't have any release plans but we're certainly writing a whole bunch of new songs which we are demoing and will be trying out at the Glasgow show.
"We'll be trying out different things and trying to gauge the reaction from people out there at our gigs.
"We've been playing together since we were 14 so our sound has definitely evolved. We've gone from fast pop and punk sounds and grown up as a band.
"Our live set has now expanded - we used to be all about the guitars, bass and drums, now we've got glockenspiels and a bit of brass on one of the songs on the album."
Tickets priced £4 are available online. For more go to The Winter Tradition website.